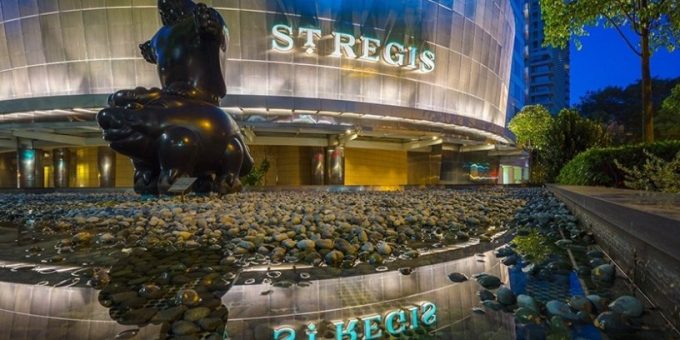 Once again I am back at St Regis using the Amex Platinum Platstay voucher. This is actually my 3rd stay with them.
---
My previous review can be viewed by clicking on the link
With that, I shall skip directly to the rooms and breakfast selections.
Caroline Astor Suite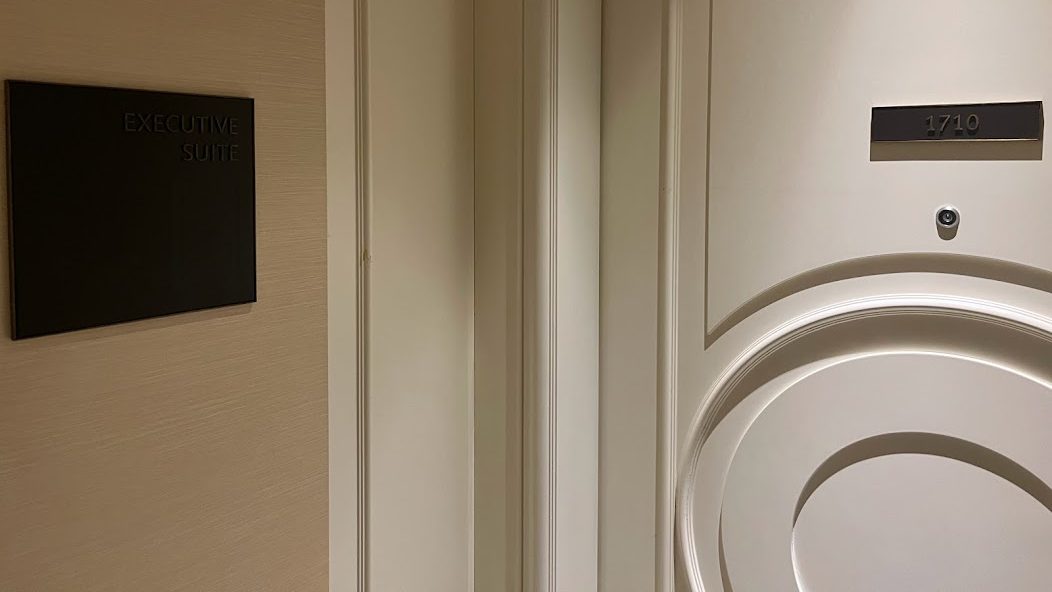 The suite is located on the 17th floor and it's a corner room measuring 80-90 M2. For a family who needs a connecting room, you can book 1709 and close the main door before 1709, and you will have 2 rooms without people accessing your spaces.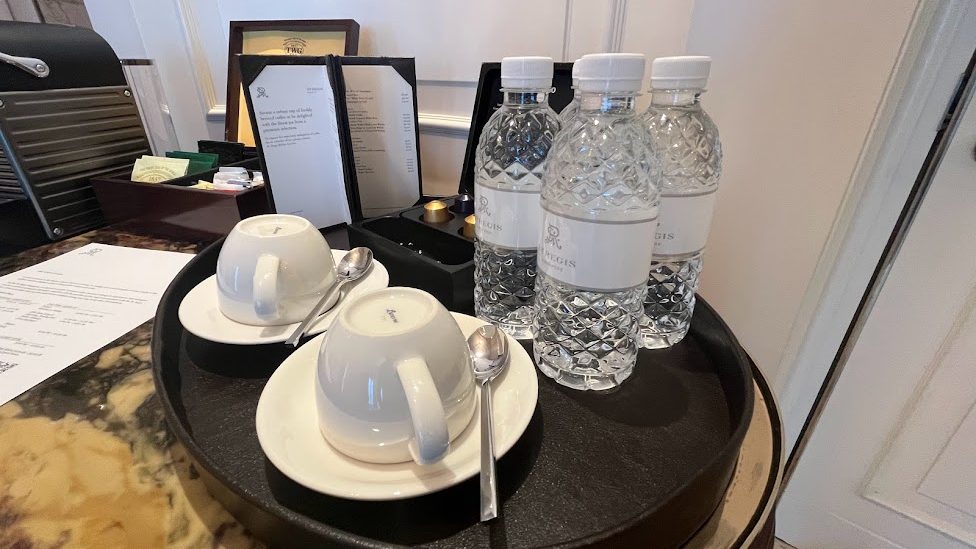 Upon entering the room, my favourite countertop is on the right. The tea cups, drinking water and Nespresso capsules are placed together.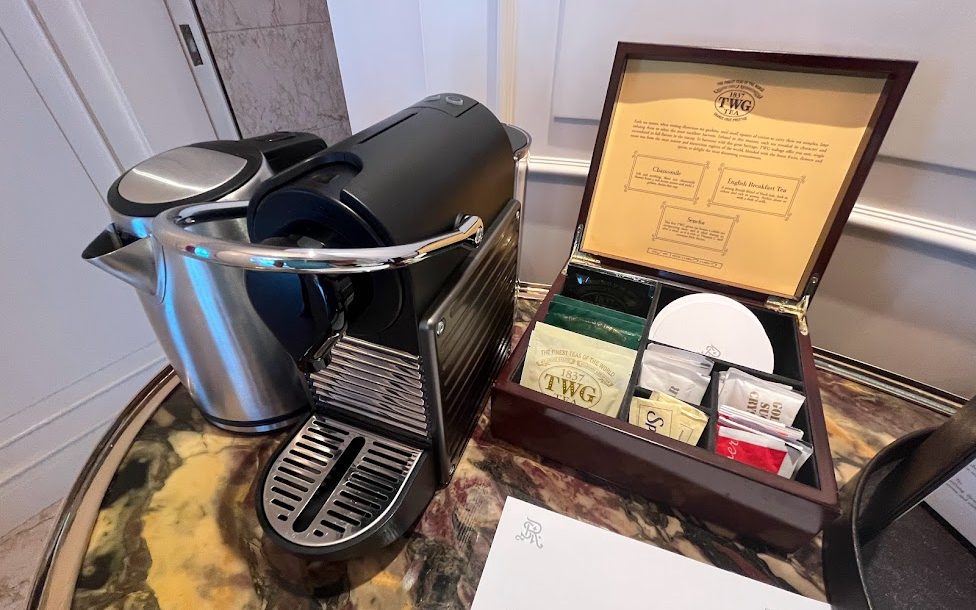 The TWG tea bags, Nespresso machine and kettle are placed on the other side.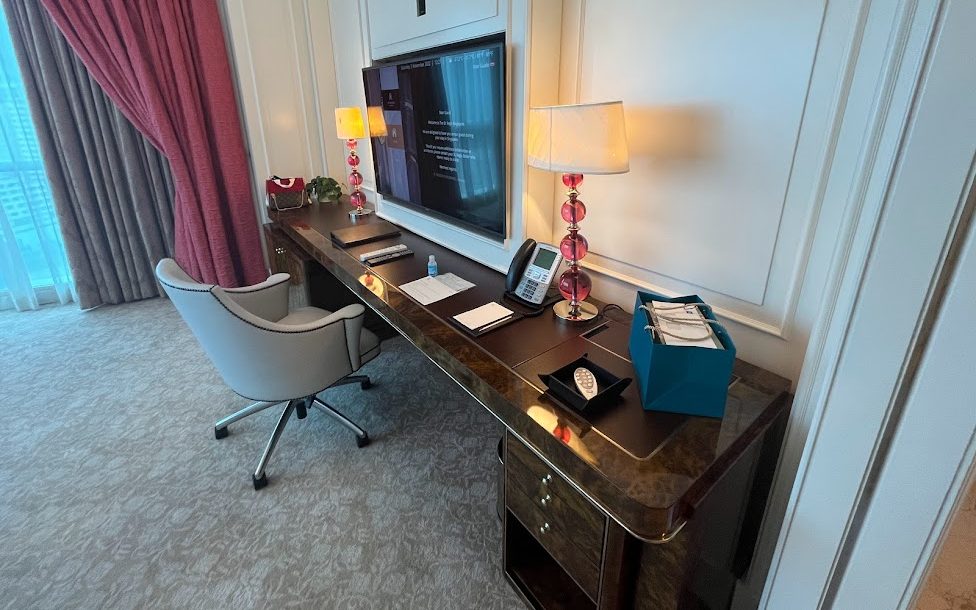 The living room comes with a full-length working desk and a not-so-smart TV where I am unable to do mirroring and when you minus the channel on the remote, it actually increase by 1 channel.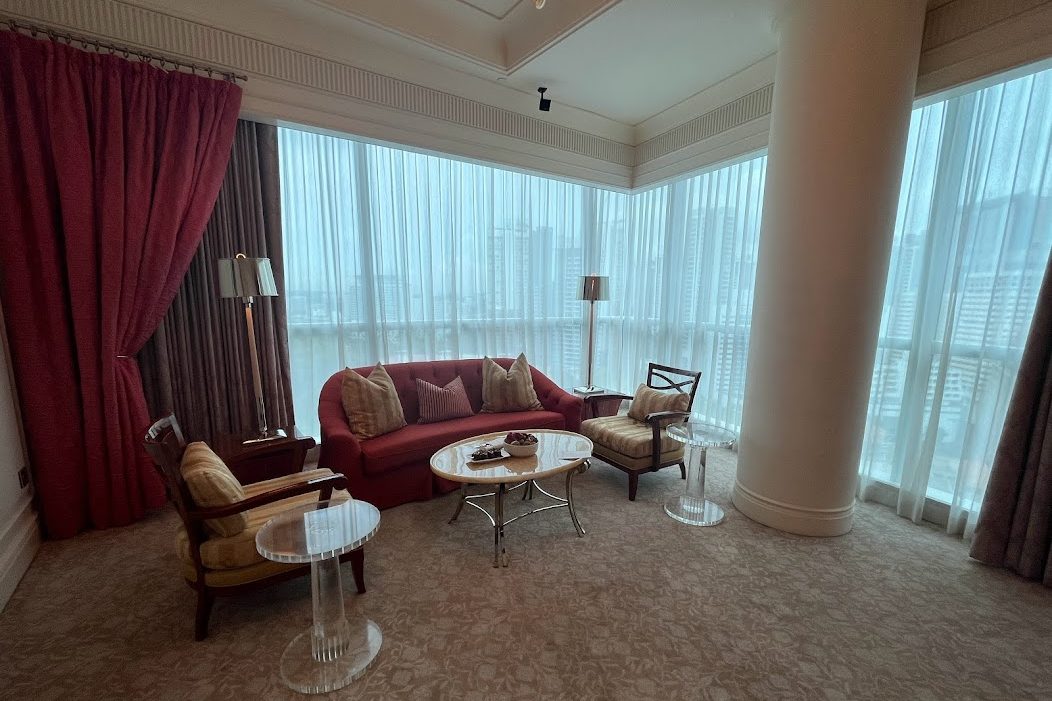 Opposite the working desk is the resting area, fitted with a 3 seater and 2 single-seaters. Perfect to have afternoon tea and chit-chat.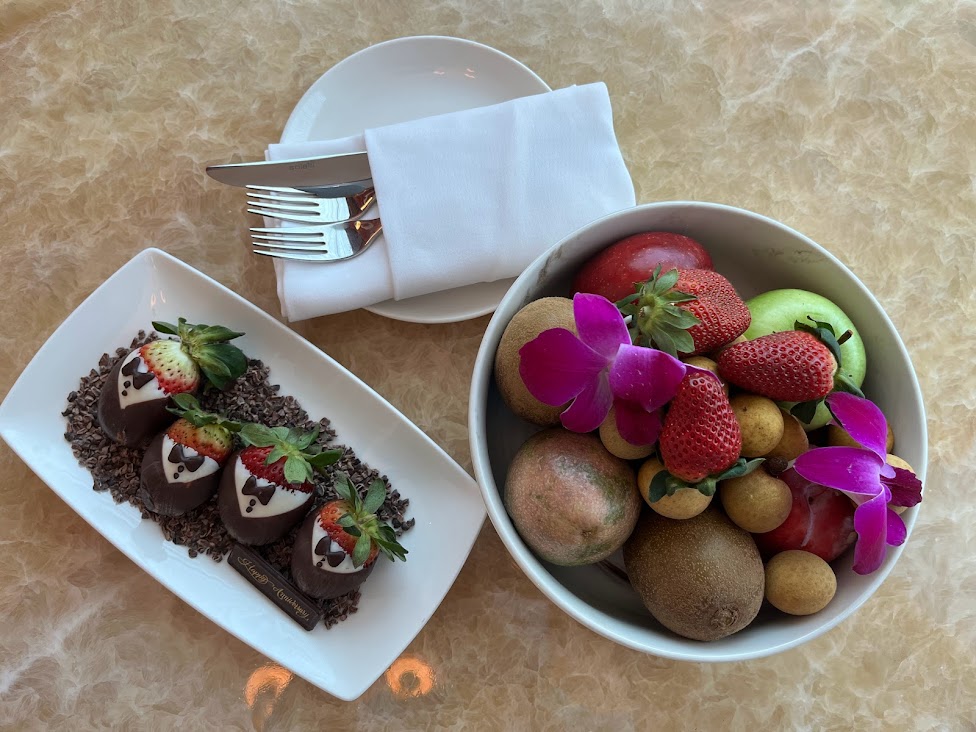 Welcome amenities were already in my room when I arrived. Four big and juicy strawberries coated with chocolate. Combination of sweet and sour and it was gone within minutes. A big bowl of fruits was also present and the ripeness was perfect.
Your stay is not complete without having Bulter tea services. A point to know is that the drinks service is not available as and when you like to have or few servings within the same day. It has been nerfed to one serving per day and timing as below.
Arrival – You can request anytime within the day as your welcome drinks
2nd day onwards – 6am to 11am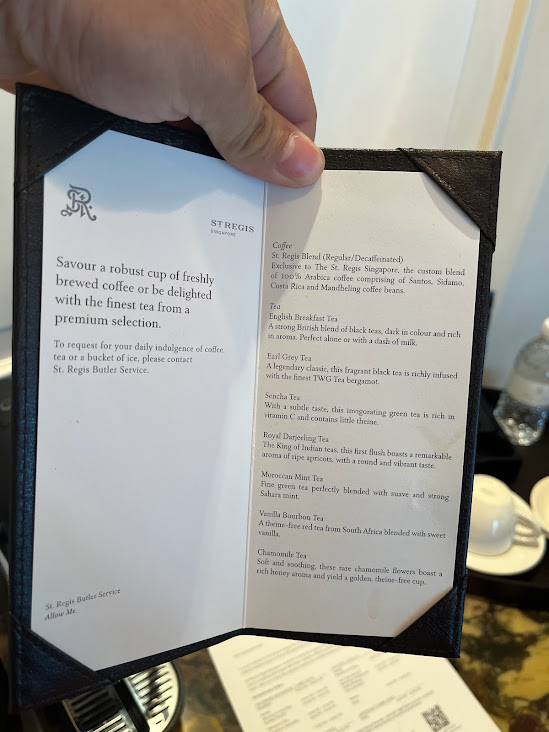 The drinks list is as above.
Toilet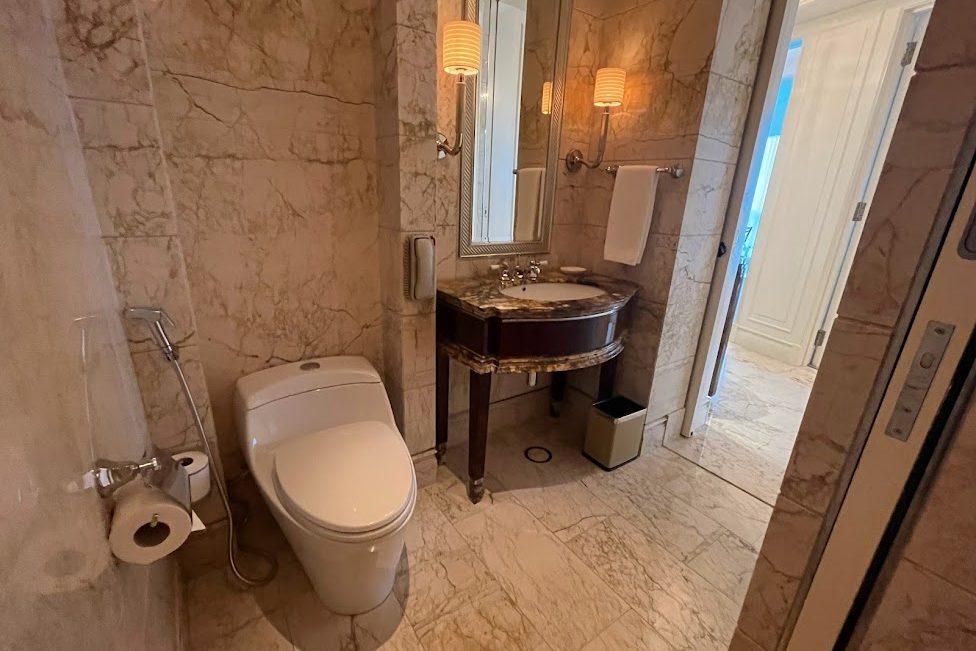 Moving on will be the toilet. There is a single sink together with the toilet bowl. Separately away from the shower area. The toilet bowl is basic unlike most hotels where the seat cover will detect your motions neither does it comes with those fancy switches or heated potty.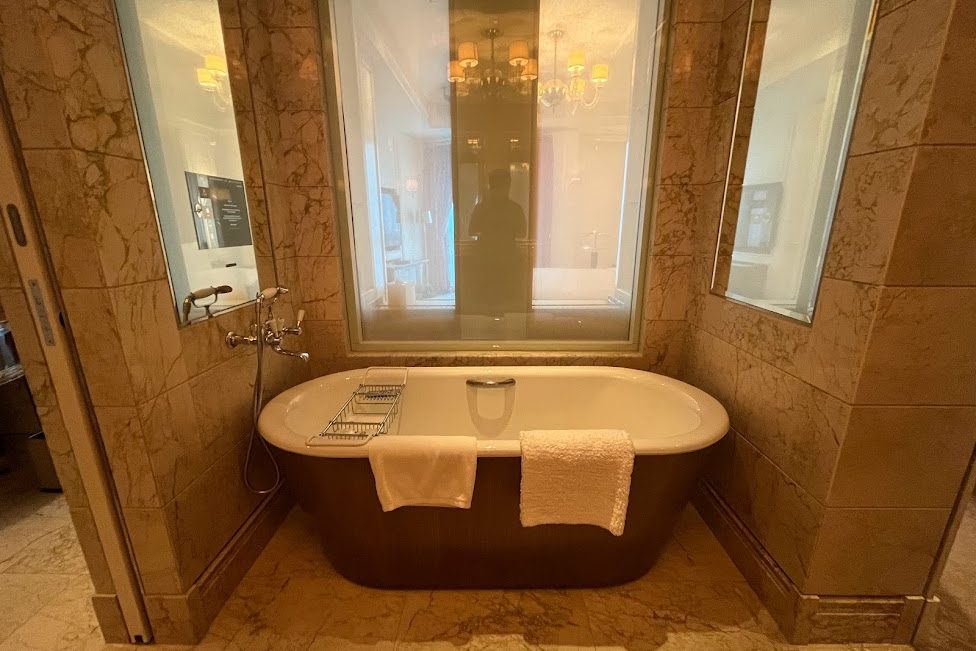 The bathtub is located between the walls and not to worry, there are blinds for you to roll down if you are shy and don't want your partner to see you. It also comes with a mirror TV to have screen time while soaking inside the tub.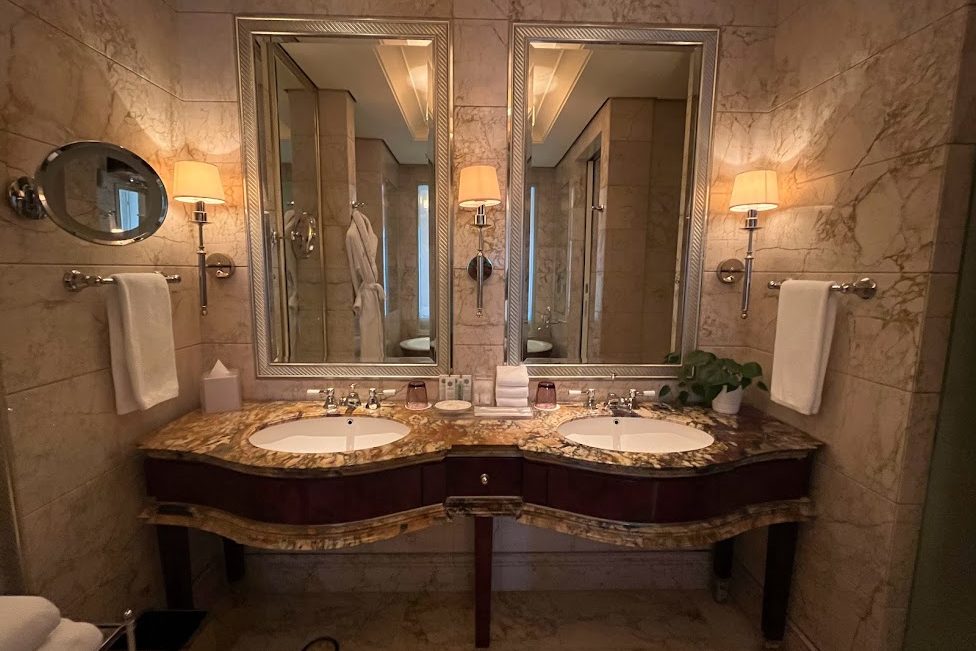 The toilet is so spacious that can fit dual sinks and has ample tabletop space.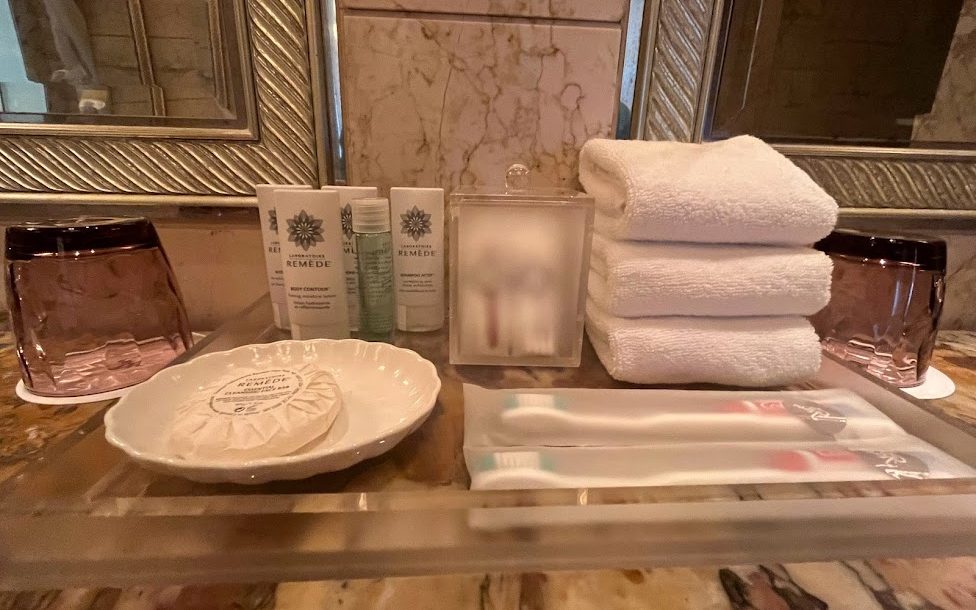 Toiletries remain the same as previously, their in-house spa brand.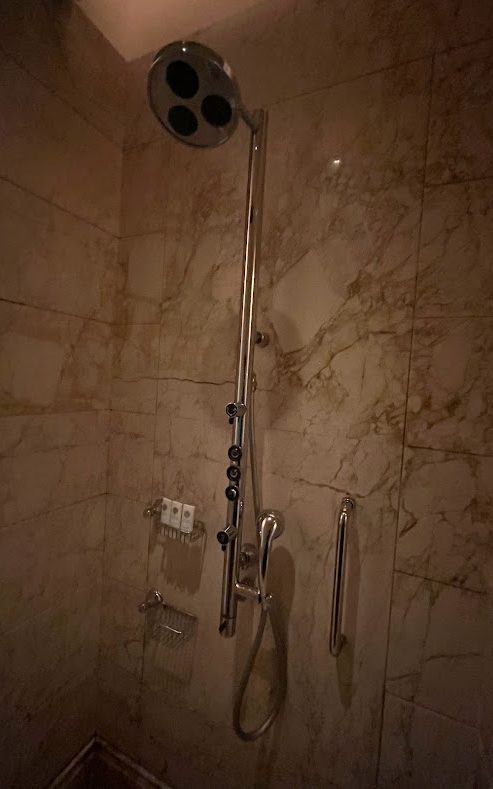 The shower room comes with a showerhead and rain shower. There are 3 nozzles which are meant for back massage with water pressure. The water pressure is strong but the temperature hardly remains the same during my shower. The hot water is unable to maintain and will go a bit cold then back to hot again.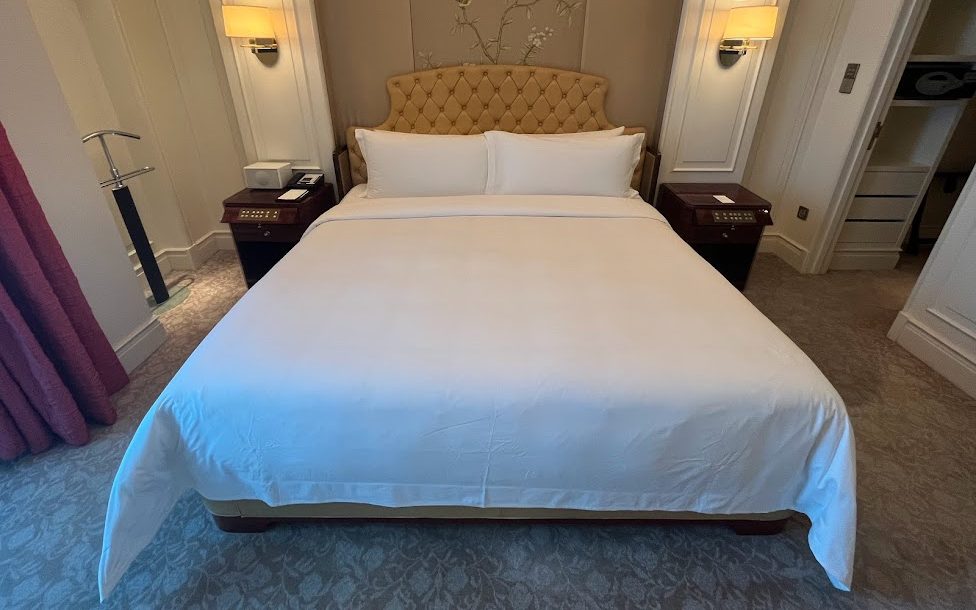 Passing by thru the walk-in wardrobe is the bedroom. A king-size bed which is a little on the soft side but the linen is smooth and comfy to sleep on.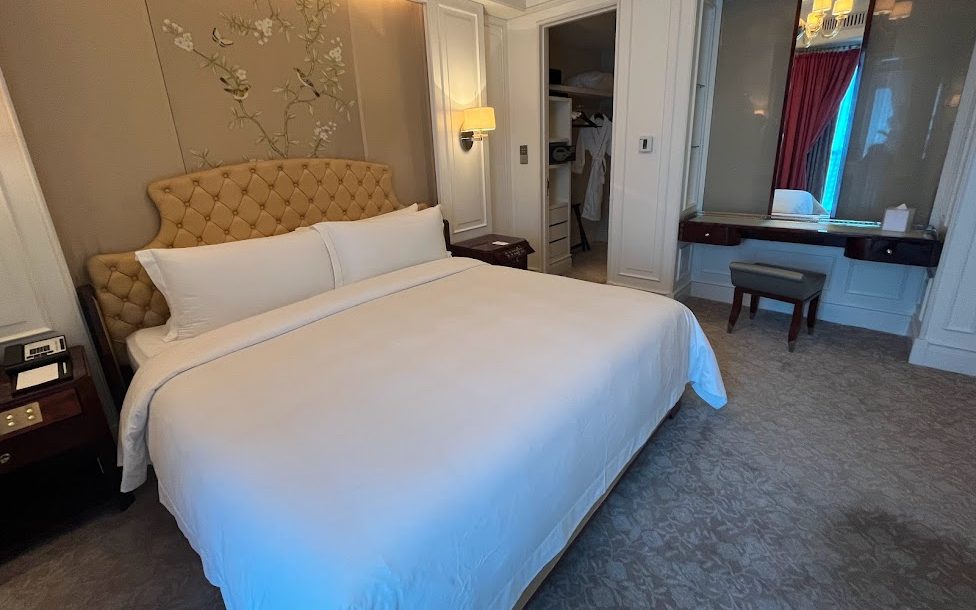 There is a dressing table with full-length mirrors.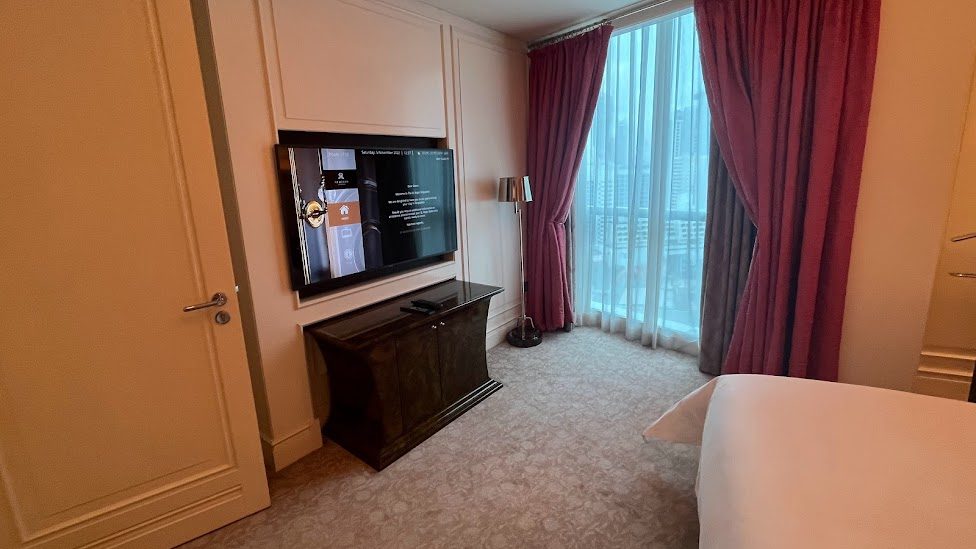 The tv size is decent enough that you will be able to watch it comfortably while lying on the bed.
Aperitivo Hours
Apertivo hours are available for all suites booking or Marriotts Platinum status and above.
The timing is between 4pm to 6pm
Monday to Tuesday – delivered to room upon request
Wednesday to Sunday – At the Astor Bar, level 1
It is available for 2 adults and 2 children below 12 years old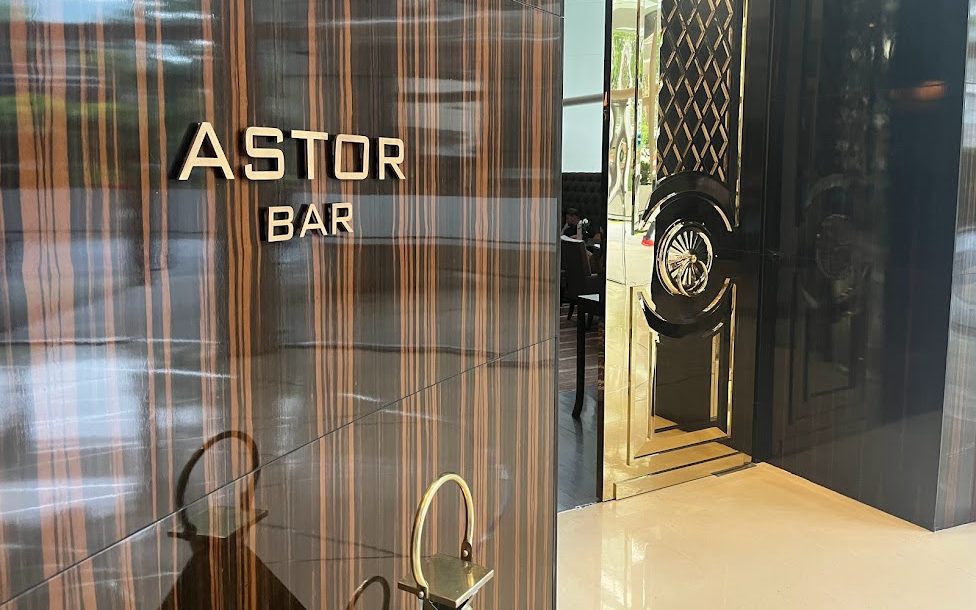 Astor bar is located at level 1 right after the drop-off point after you entered St Regis.
Finally, they are serving cold cuts with self-service. For my past 2 visits, it was always served by the staff and the portion was strictly 1 item per serving.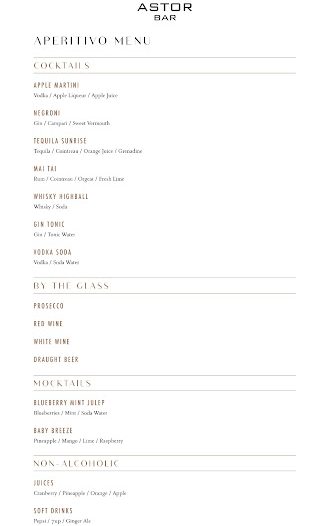 The drinks menu is as above and it is one serving per guest.
Swimming Pool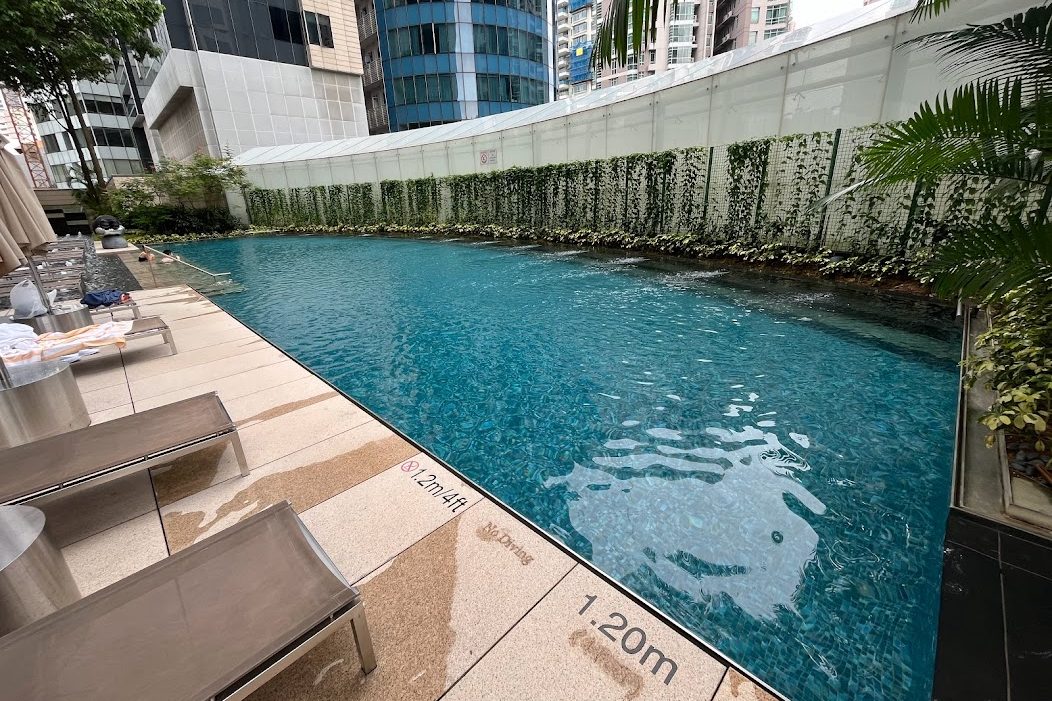 The swimming pool doesn't require a reservation and the depth is 1.20m. Quite suitable for children to play and has a decent length to do your laps.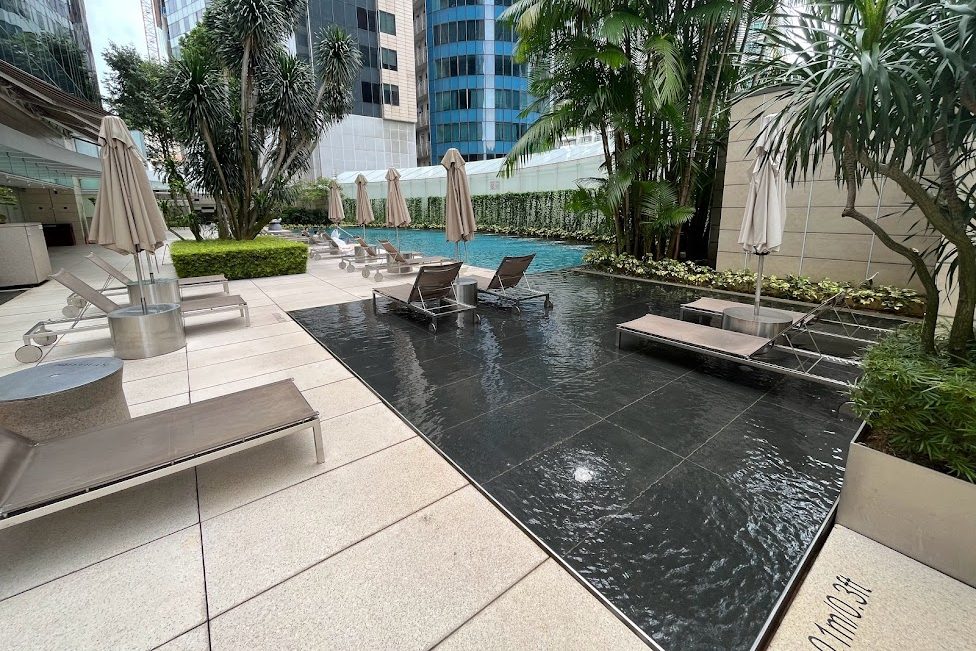 There are plenty of sun beds available.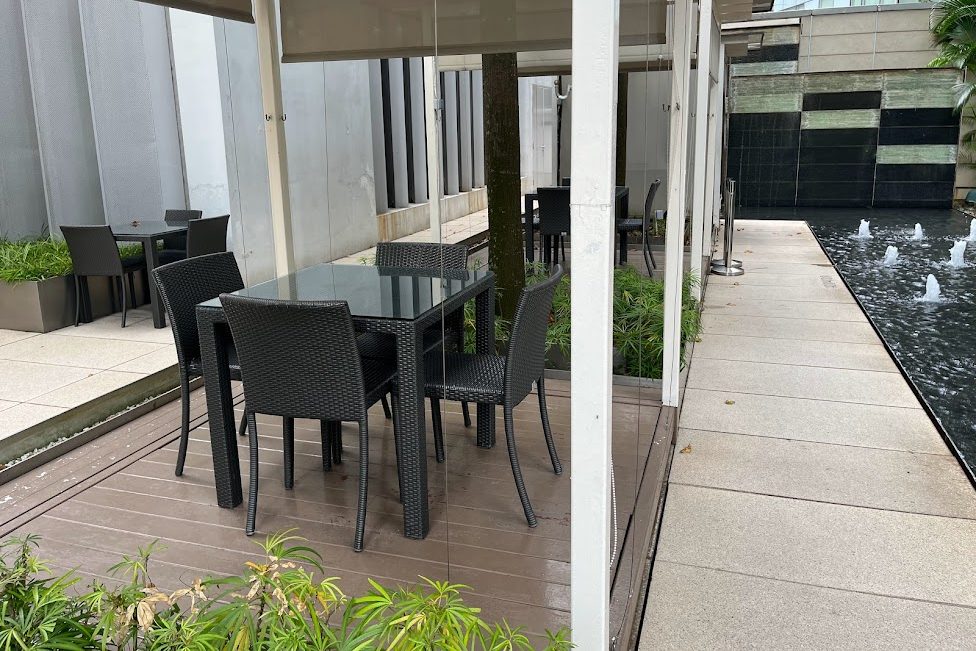 Only 2 cabanas are available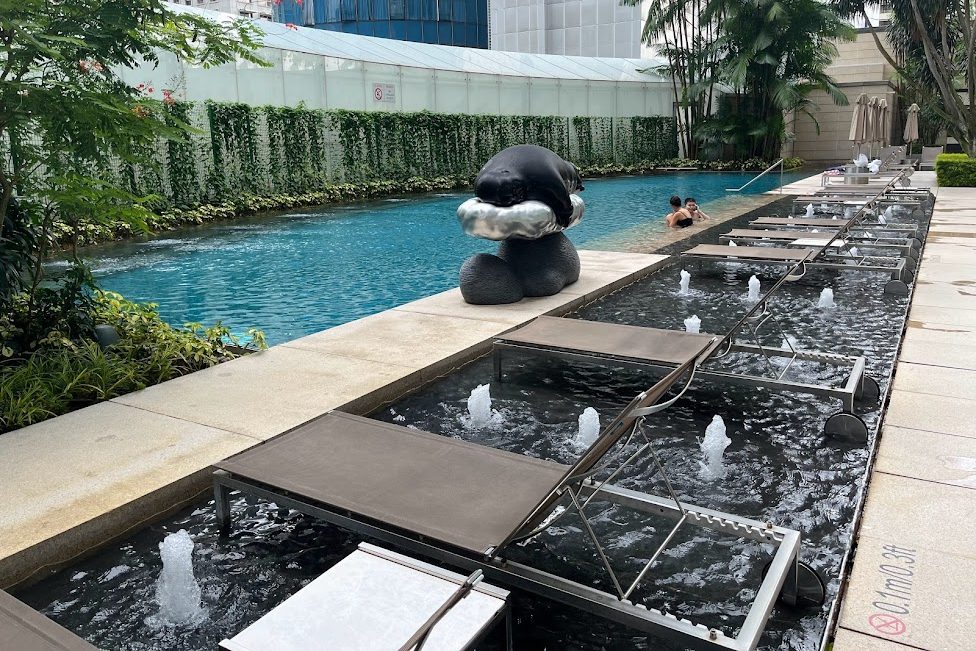 Another side view of the pool. I also wish to lie flat like the statue.
Breakfast
Breakfast is served at Brasserie Les Saveurs and the buffet line is back for self-service.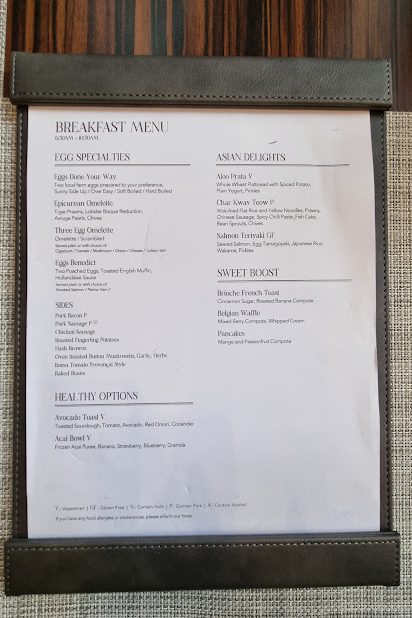 You can also order from the menu for the hot food.
The menu food is also must try. Top qualify ingredients and taste.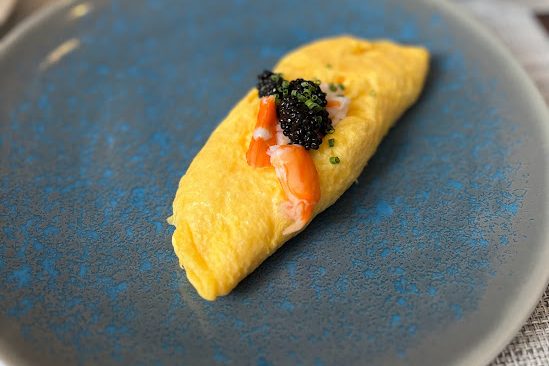 Epicurean Omelette is a must-try whenever I visit St Regis. It was cooked with tiger prawn and served with Avruga Pearls.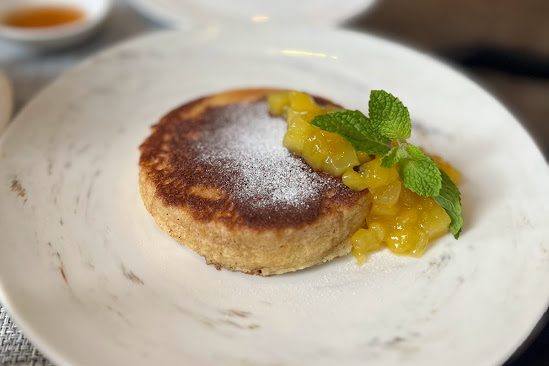 Over thickness pancake with Mango and Passionfruit for the kids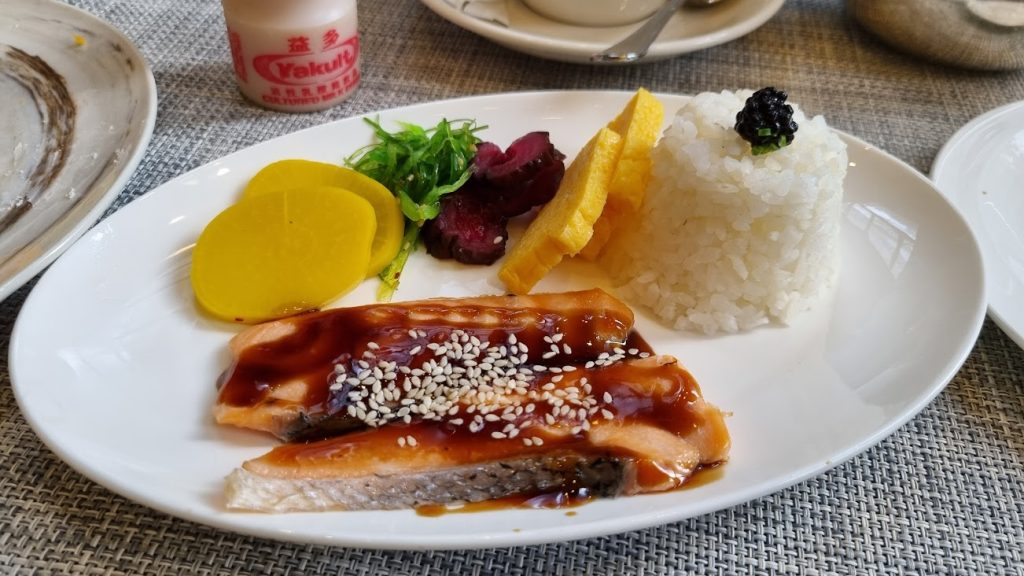 The Salmon Teriyaki was authentic with Egg Tamagoyaki and Japanese rice.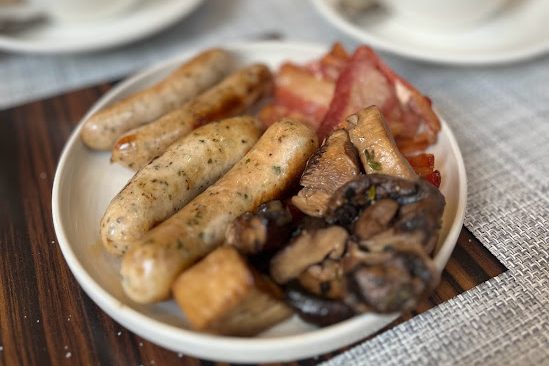 There's also a mixed serving of sides and my favourite would be Bacon and Button Mushroom
Summary
A free stay with my Amex Platinum Platstay voucher and was upgraded to one of the highest-tier suites. Although the nerfing of the butler drinks doesn't really matter much to me since I will be exploring the Orchard road area and won't be in the room most of the time.
It is still an enjoyable and relaxing staycation to the end of 2022.