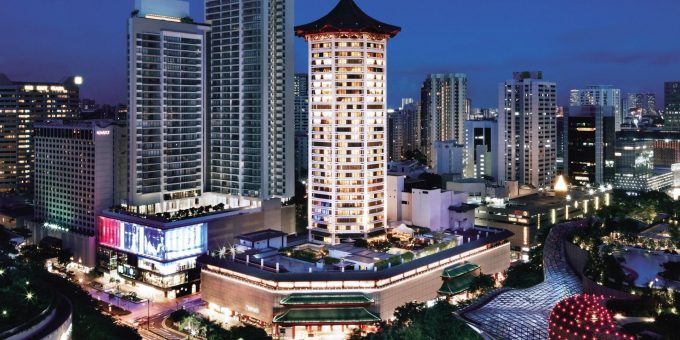 Built-in 1982, the hotel is 30 storeys tall with a total of 384 rooms, with a total of 19 suites. Nested along Orchard road, the main shopping street in Singapore. Easy walk to the MRT subway to go anywhere. You won't be bored during your stay. I had a very fulfilling stay but sadly, this year the Christmas deco along Orchard road is a little disappointing.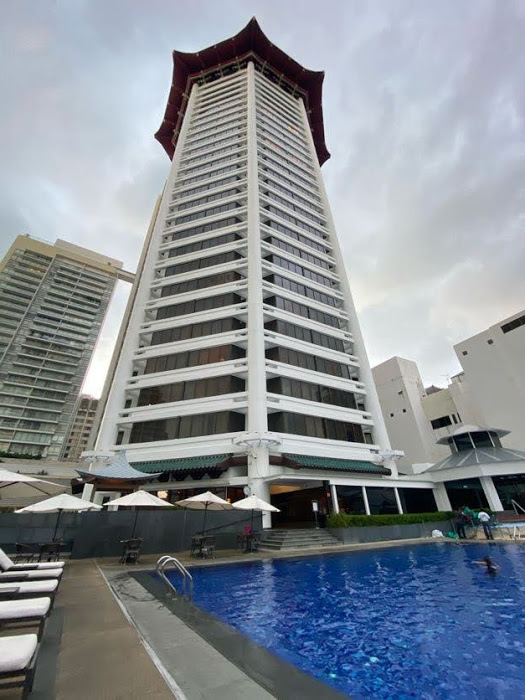 Checking-in
My stay is on a Monday and the not crowded during check-in at 2 pm. Not sure if it's due to the low occupancy rate or they are checking in at a later timing. Was given pre-upgrade to Suites but have to turn it down due to availability is only after 5 pm.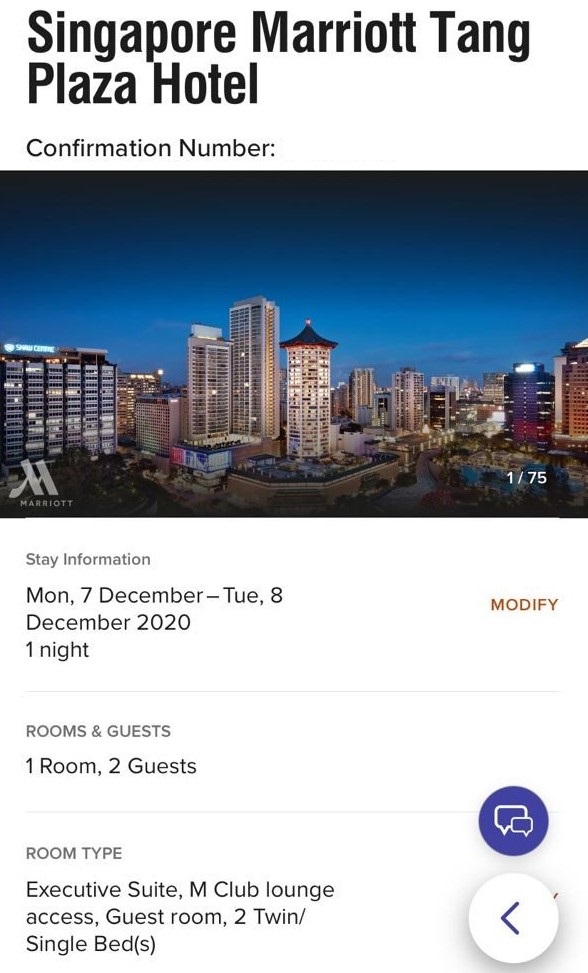 Checkout timing is 4 pm for Marriott Platinum. As a Platinum status member, you are entitled to choose whether you want to get 1000 points or welcome amenity. I took the bread with tomato and mushroom dipping together with 2 cans of Pepsi.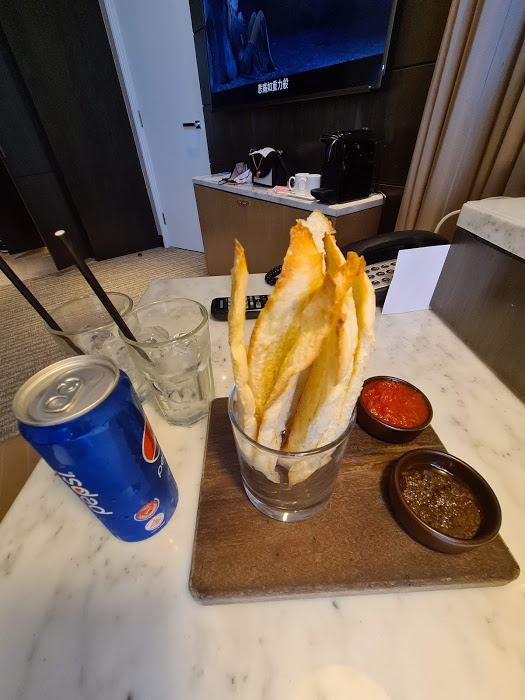 Executive Twins Sharing Room
The room is 32sqm with a view facing towards Scotts Square.
Upon walking into the room, the toilet is on the left and the wardrobe is on the right. The TV and working desk is directly after the wardrobe. There is also a couch and a small table suitable for you to place a laptop to do some misc work or use of handphone with a packet of potato chips to munch. The bed firmness is just right for me. medium hardness which doesn't give me a backache after my sleep.
Toilet
The shower area comes with rain and hand shower head. Amazing the pressure is very strong when I'm using the hand shower head. However, the rain shower lacks pressure.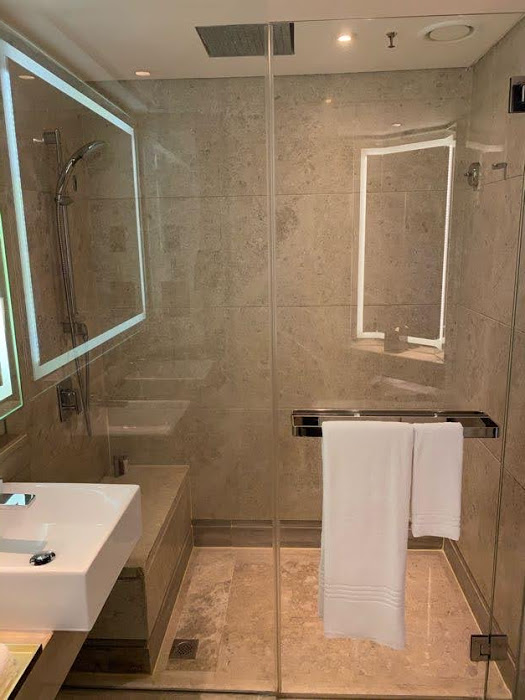 His and her sinks available together with a big mirror.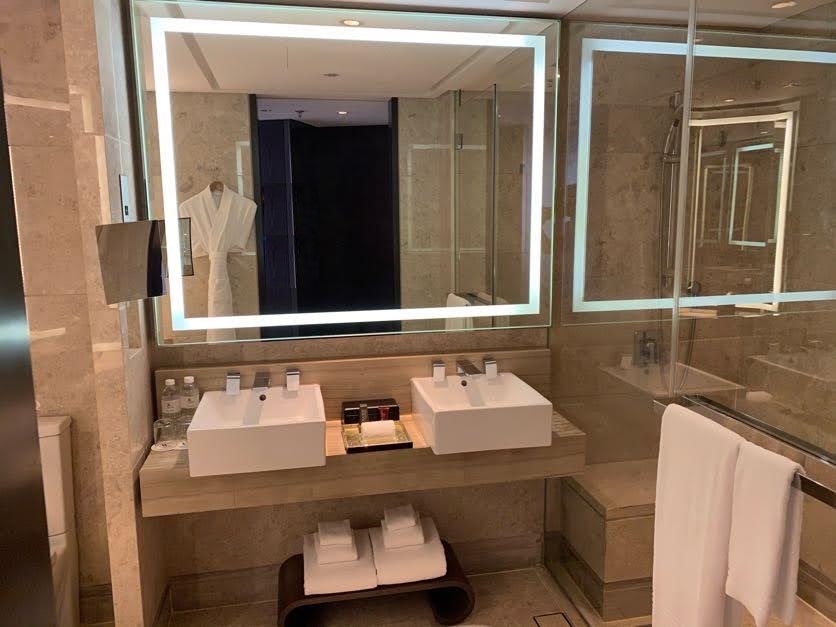 There is also a dressing table for the ladies. I really like the frame of lightings, a simple touch but looks so much better compared to those mirrors withing the lights.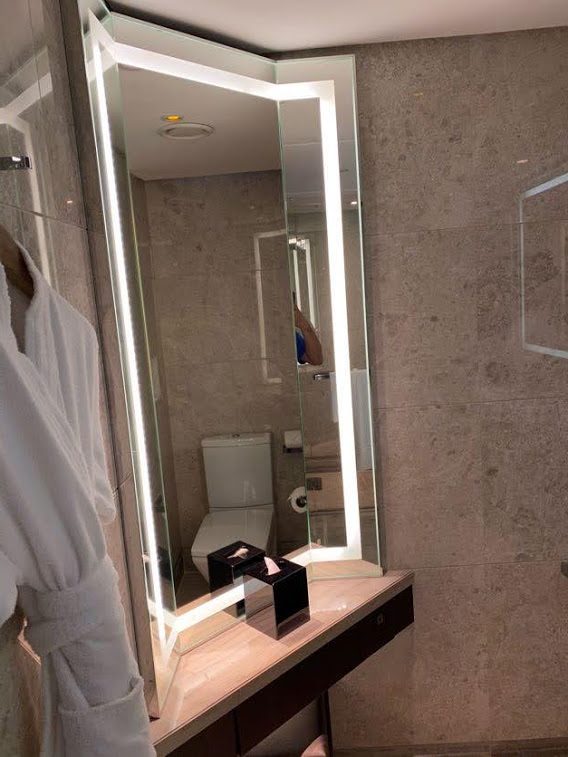 Ok, the toilet bowl doesn't come with billet but decent size.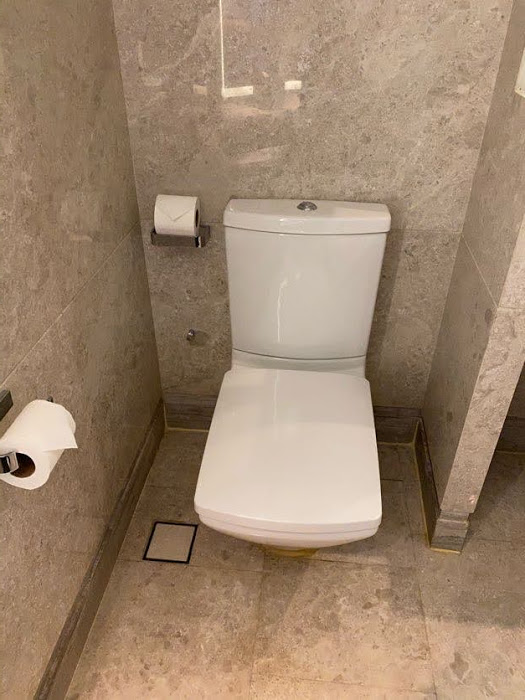 Wardrobe
Dark walnut with 4 Doors wardrobe, plenty of space for you to keep your personal belongings. Plenty of spaces to hang your clothing and cabin size luggage too.
TV Console
46-inch HD Smart TVs wall mounted to provide more space on the cabinet. Watching tv from the bed is also not straining for the eyes.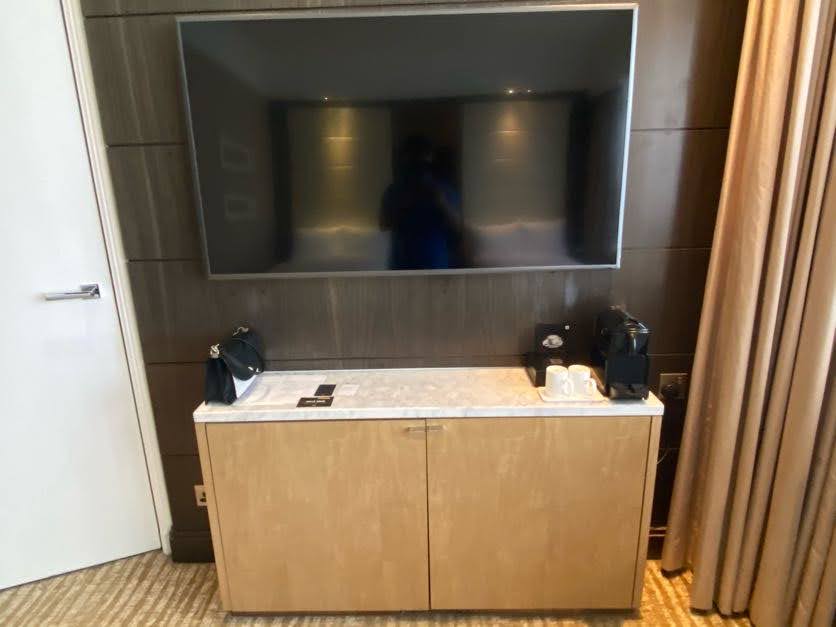 Nespresso coffee machine with 3 capsules available for your coffee fix.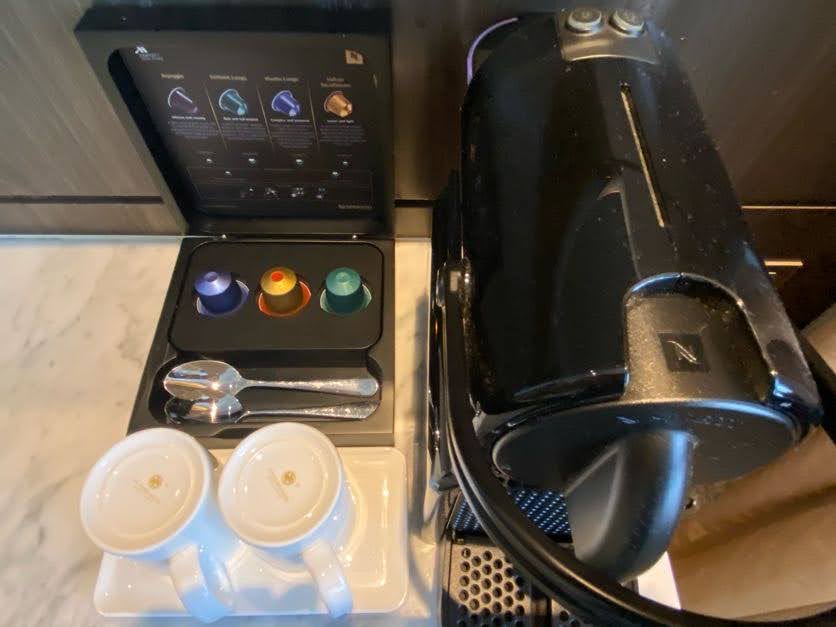 The fridge is within the cabinet and was empty probably due to Covid measure. English Tea and kettle are also in the cabinet.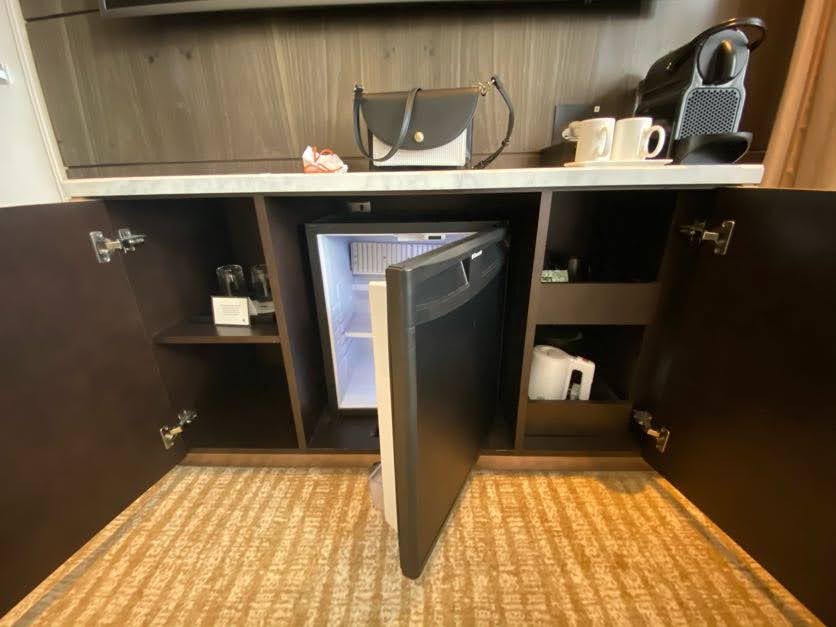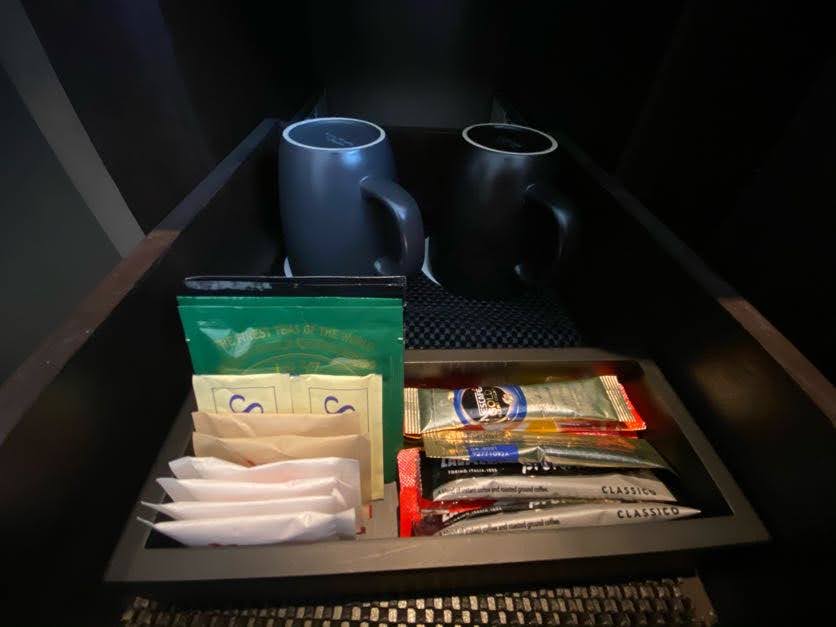 You can control the lightings from your bed. Two 3 pins sockets are also there for you to do charging. A plus bonus if you have more than 2 devices that need to charge, the clock is able to wireless charge your phone. I tried it on my iPhone and it works. However, I'm not sure how long will it take to fully charge.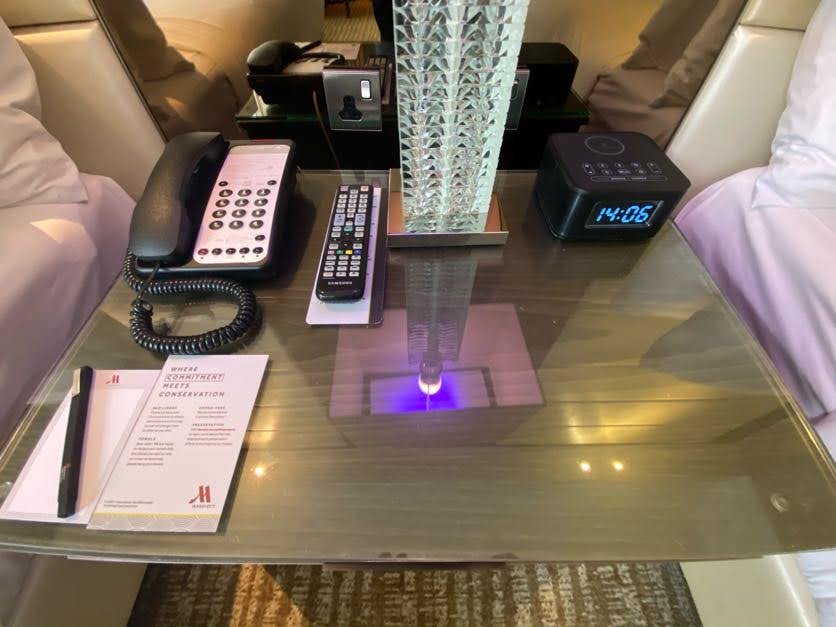 Swimming Pool
Booking of slots is required. The slots are in interval of 2 hours.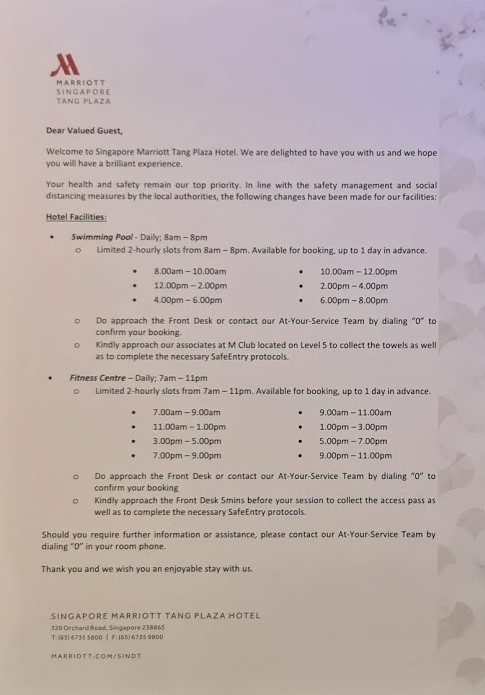 The pool is generally empty on the 2 occasions I visited. The pool is depth at 1.2m. Towards the end is the Children's pool with jacuzzi nozzle.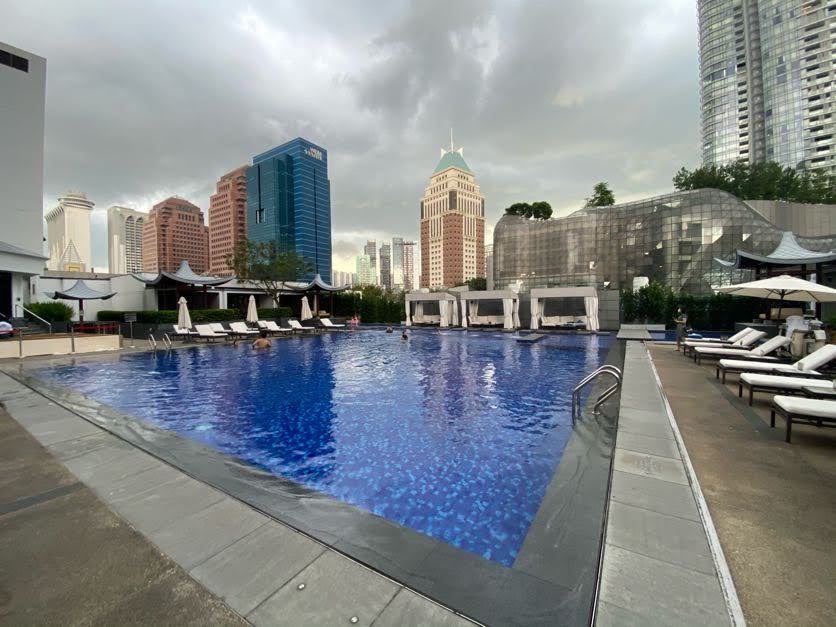 M Club Lounge
M club is operating from 5.30 pm to 9.30 pm. Food serving will end at 7.30 pm with the last order at 7 pm. The menu will change daily, those that stay more than 1 night won't feel bored with the selections. Servings are unlimited but no food wastage and don't drink till becoming merlion.
Breakfast @ Marriott Cafe
Selection is decent and you can have more than 1 serving. Reservation is recommended due to the cafe capacity is limited and from my observations, there are four staff handling the breakfast crowd which I felt is a little shorthanded.
The breakfast is delicious but I don't suggest you take the porridge. Amazing the roti prata is fluffy and the curry smells fragrant from the spices.
Lunch @ Marriott Cafe
As my stay is given $50 F&B credits. I had my lunch at Marriott Cafe. Reservations are strongly advised as it was packed when I went down for lunch and was told there are no seats available. Apparently, it seems to be a favorite place to dine for the nearby office workers.
Those parents with kids, this is a good place to use your credits as there are offering kids menu and it comes with a can of soft drink and ice-cream.
Notice how a can of coke is almost the same price as a kid's meal. My bad for not asking the price when I place my order. If not I could order another kid's meal instead.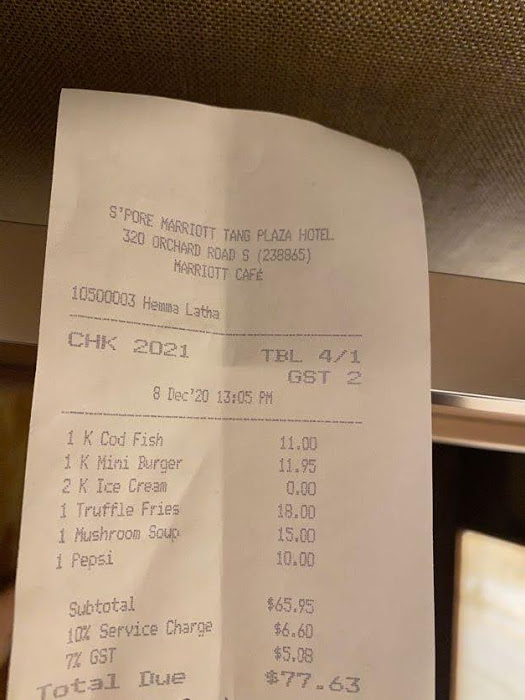 Conclusion
My family had a wonderful time of 26hrs spent on the property. There isn't any moment that we felt hungry given the spoilt choices of food and drinks that are available to us. The facilities are also well maintained.
I will definitely return for another staycation of 2 nights if there is a good promotion available.
---
Address: 320 Orchard Rd, Singapore 238865
Please support by following my Facebook page and instagram.