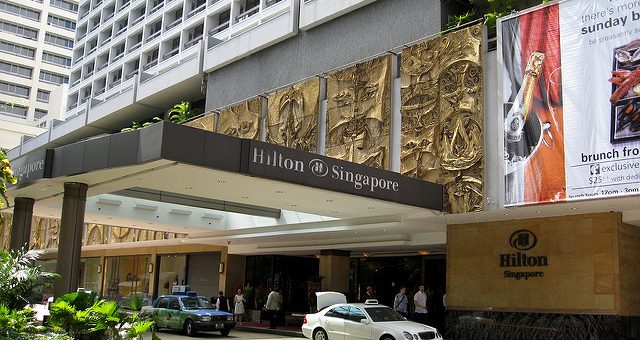 Situated in the heart of Orchard Road- a popular entertainment and shopping district, Hilton Singapore is close to both ION Orchard and Takashimaya shopping centers.
The Hotel was in operation in 1970 with 26 levels high and have a shopping gallery on the first two levels. Hilton was my favorite brand to stay in whenever I'm overseas. However, Hilton Singapore made me change my impression on what is 5 stars services.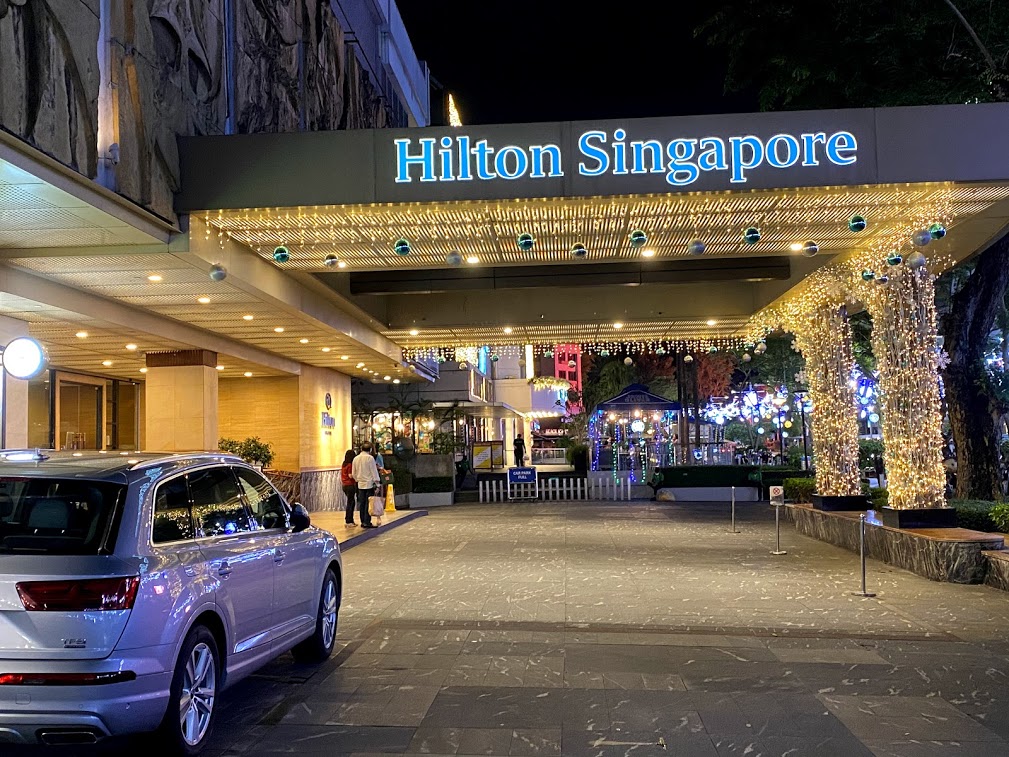 Checking-in
There is a Diamond status queue available but don't bother to line in there. The normal queue move faster than Diamind queue. I was there waiting and the front-desk are clearing the normal queue without asking the Diamond members to proceed first.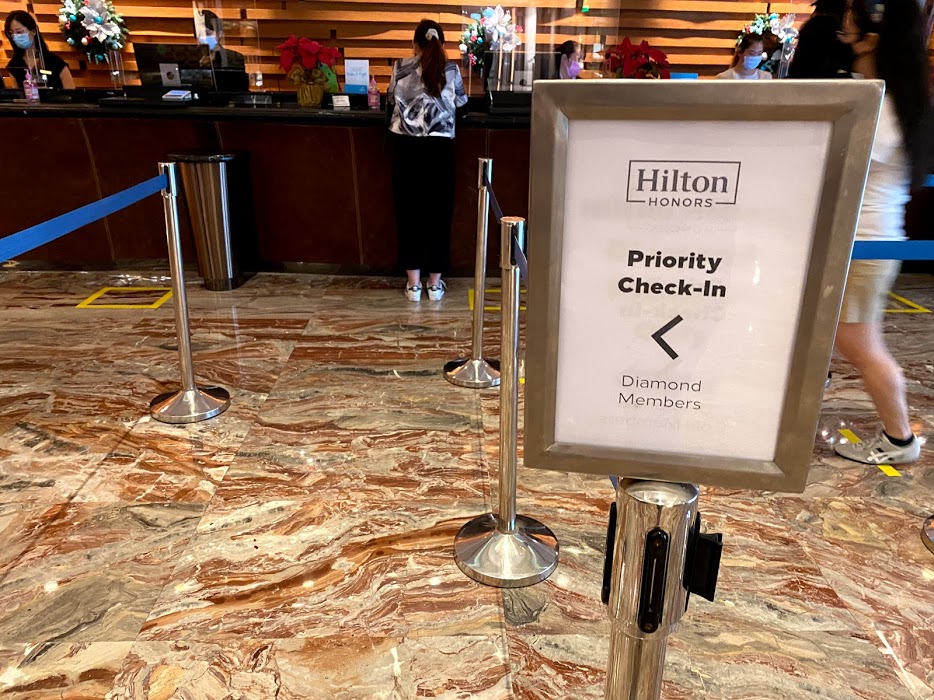 Hilton check-in timing was 3 pm and I reach around 2 pm. The front desk told me my room is not ready and will be ready at around 3 pm and they are expediting the housekeeping. 1-hour pass, I check with the front desk again and was informed the earliest will be 4 pm.
No apologies or anything. Was offered to have welcome drinks and pastries at Opus while waiting for the room to be ready. Fast forward to 4.45 pm, there isn't any update on my room availabilities. The Duty Manager came to spoke to me at around 4.50 pm and to my amazement, he told me the occupancy rate is not high and I shouldn't be waiting so long for my room to be ready.
At around 5.00 pm, my phone rang and it's time to collect my keys.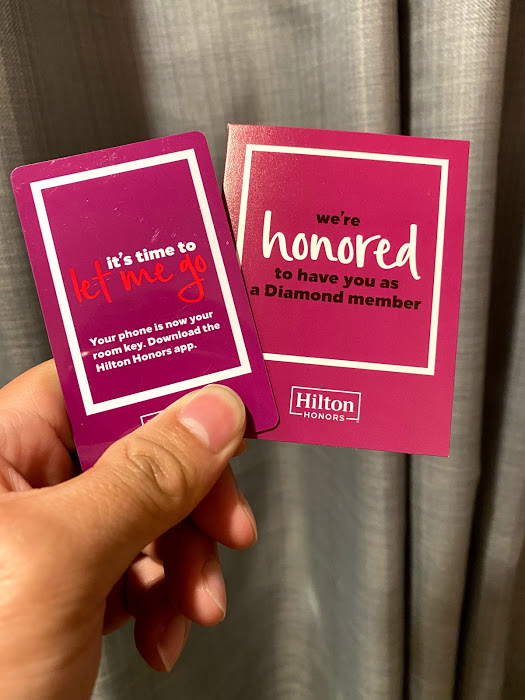 Twin Premium Room
The room measured at 32 sqm and was renovated from a Deluxe room. The bathtub was removed during the renovation and replaced with rain showers and a 50″ Samsung smart tv.
Hilton has a clean stay program, there will be a seal after housekeeping was completed and as an indication to let Guests know no one has entered the room.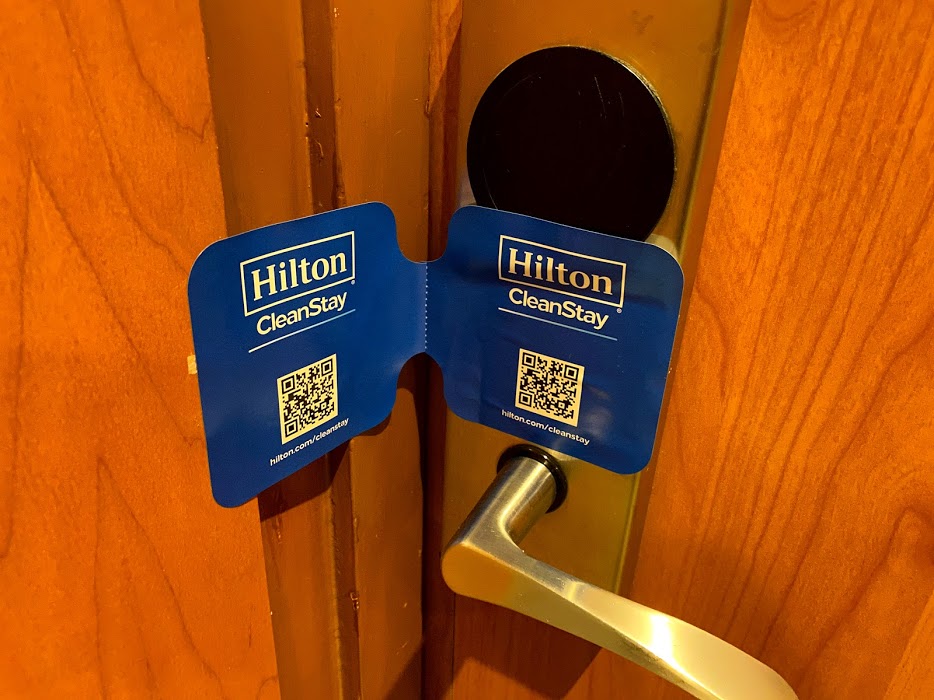 The room has beige tones and plenty of woods which made the room feel like you are back to the 2000s.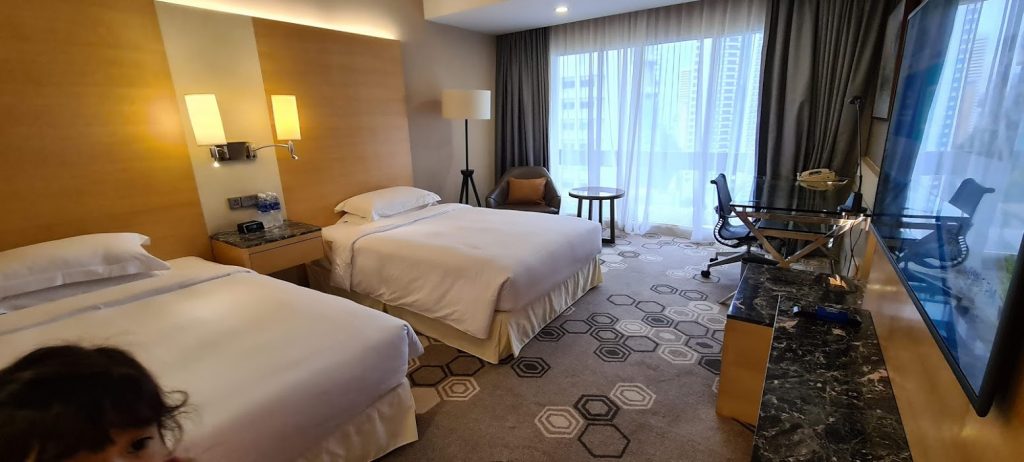 The toilet has two different tones and gave you a feeling that it was old and dull. Space-wise, pretty decent for single use but the height makes it feel like it's more towards kids friendly. I had to bend 90 degrees to wash my face. likewise, for the toilet bowl, the toilet paper is so low that I need to stretch to reach it.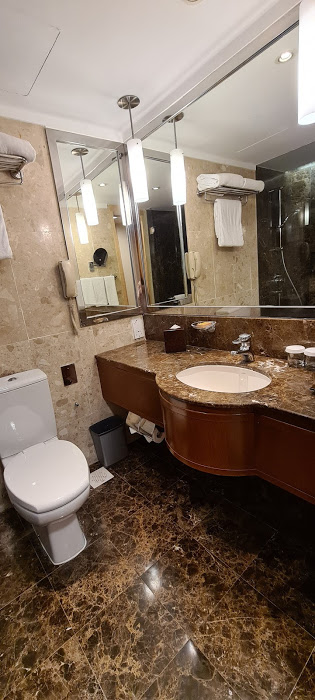 The water pressure is nice and strong. multiple tones can be seen on the floor and walls. Indicating half finish job vibes.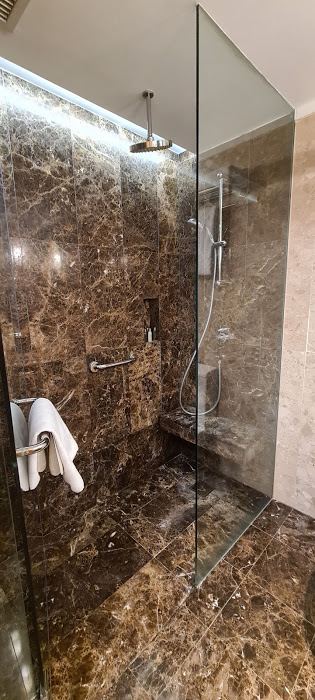 Bath room amenities were from Crabtree & Evely.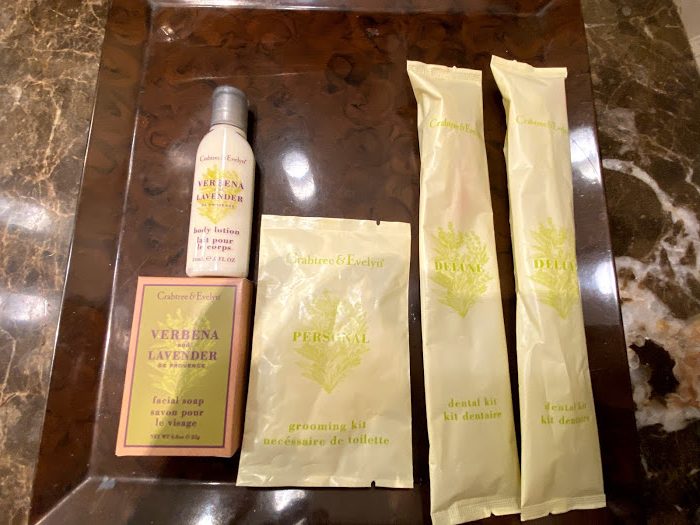 The room comes with a Nespresso coffee machine with an empty jar which I suppose we can request for milk somewhere. The fridge was empty due to Covid measurement. Two doors wardrobe was on the left side.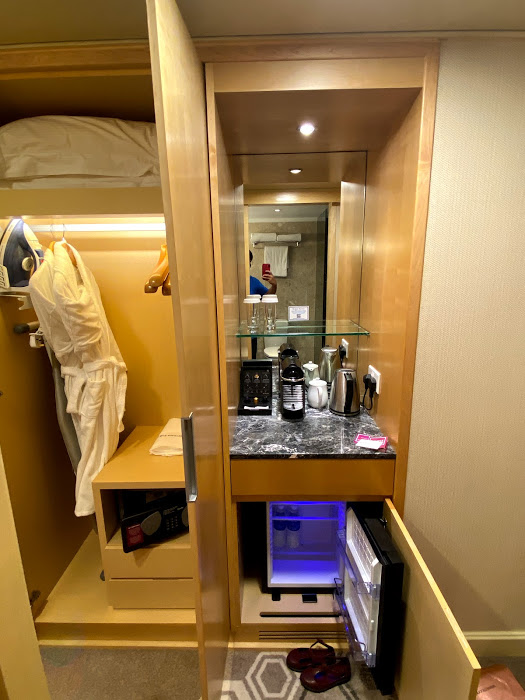 TWG tea bags, Sugar and Creamers are available at the drawer below Nespresoo coffee machine.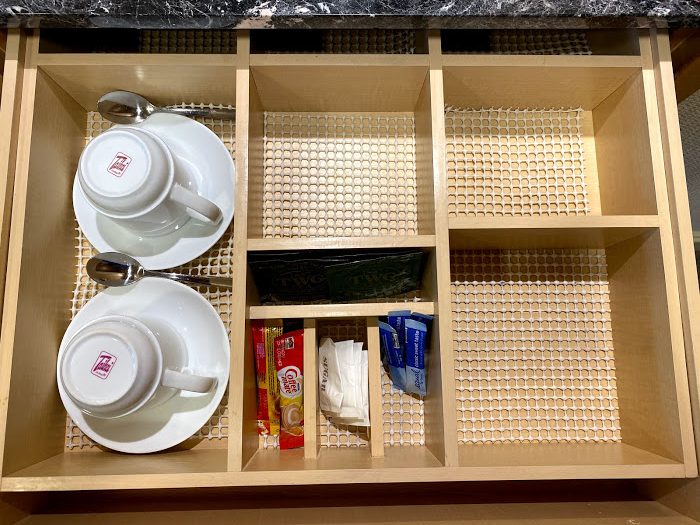 Nice looking working table and Herman Miller ergonomic armchair. Perfect for you to do some work.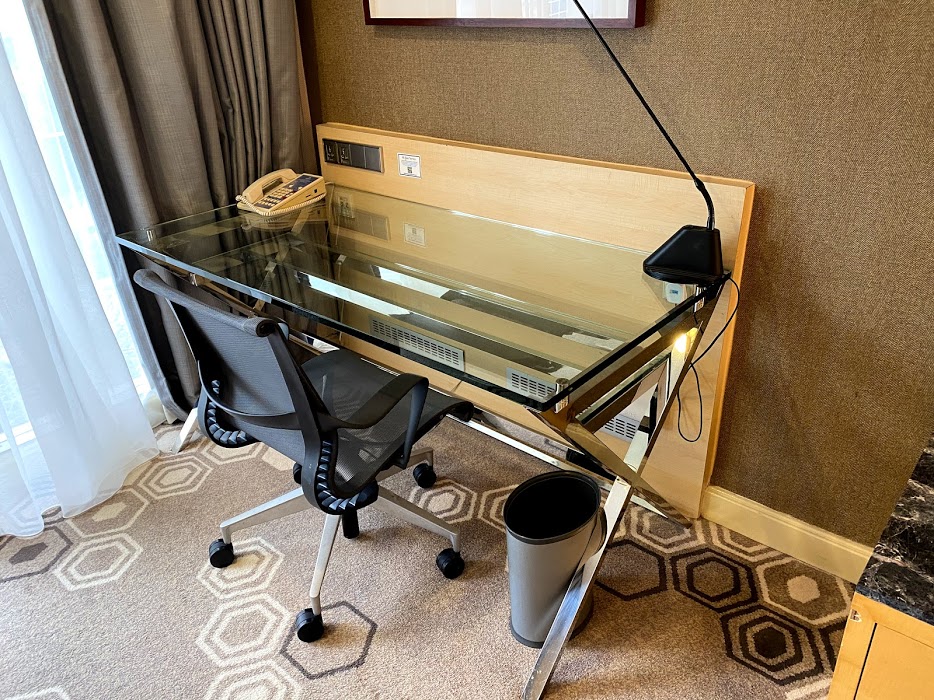 The 50″ Samsung Smart Tv which allowed me to Mirror and watch Netflix.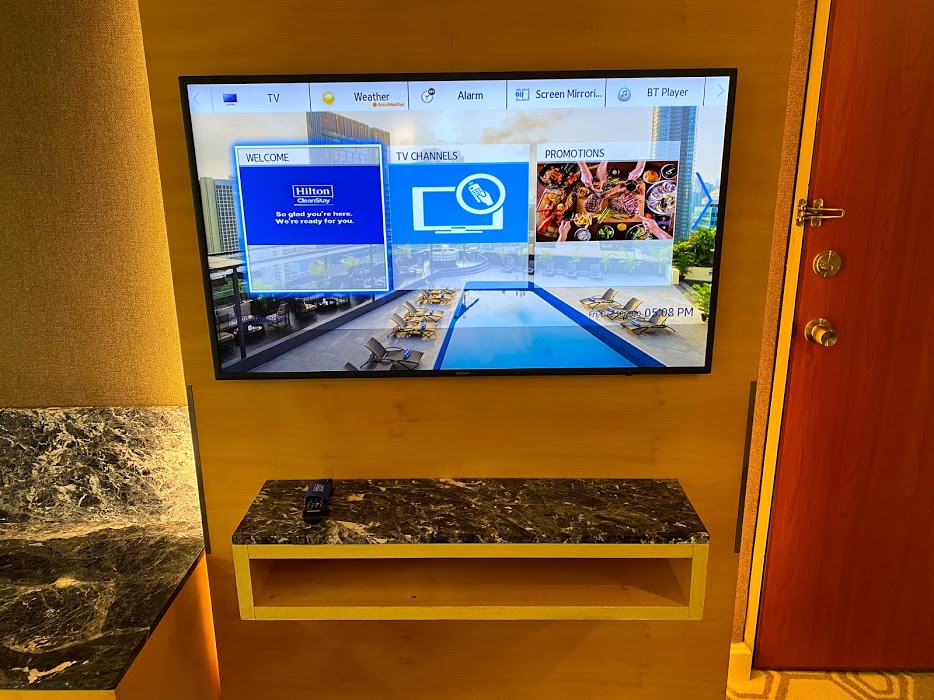 The bedside table comes with two universal sockets, ample for me to charge my phones. The clock also has 2 USB ports available in case you need more.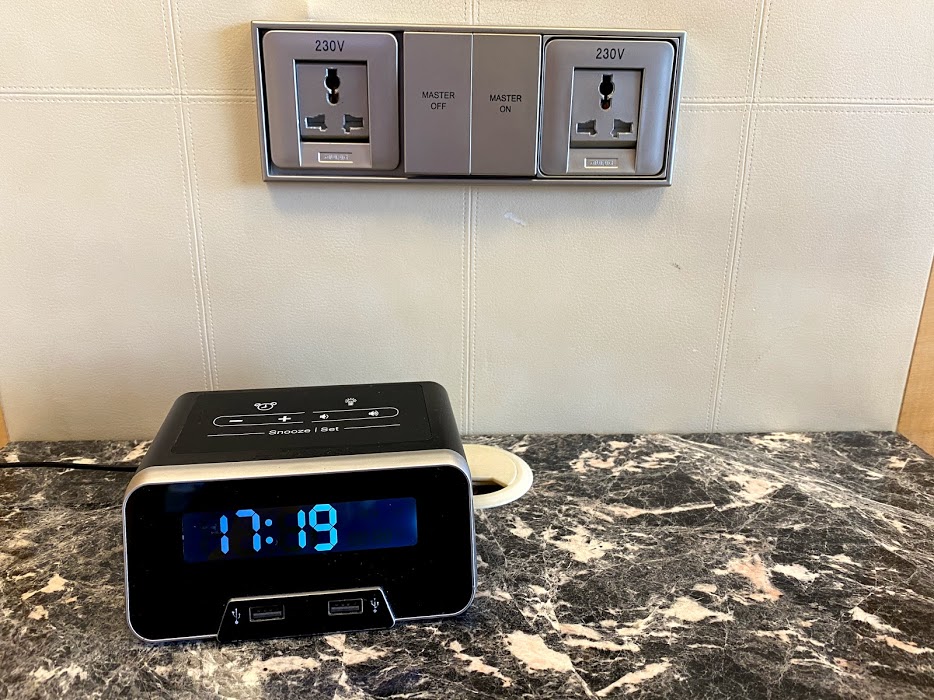 Swimming Pool and Gym
Facilities usage is required to prebook via the QR code. You will need to take the lift to level 23 and use the staircase to access level 24.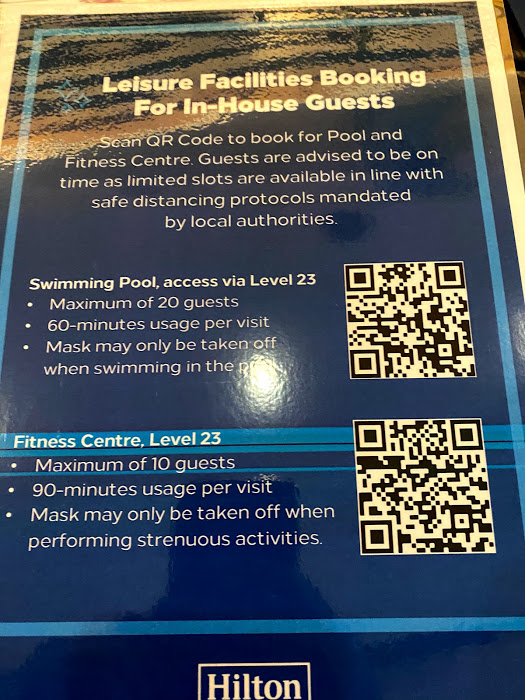 The swimming pool can accommodate 20 guests and pre-booking is required. 0.6m for the kids and 1.2m for swimmers.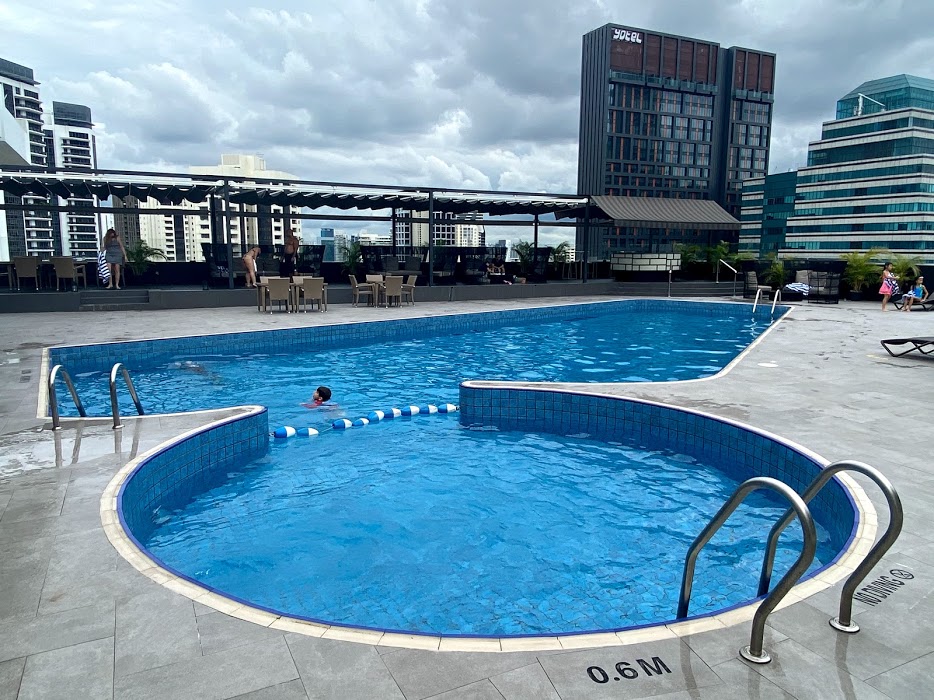 Hilton Executive Lounge
The Executive Lounge is located at level 22 and is accessible to all Hilton Diamond members or or those staying in Executive category rooms.
Evening cocktails were basic and you are limited to 1hr slot. I did not try to stay for more than 1hr as the foods are fried and oily.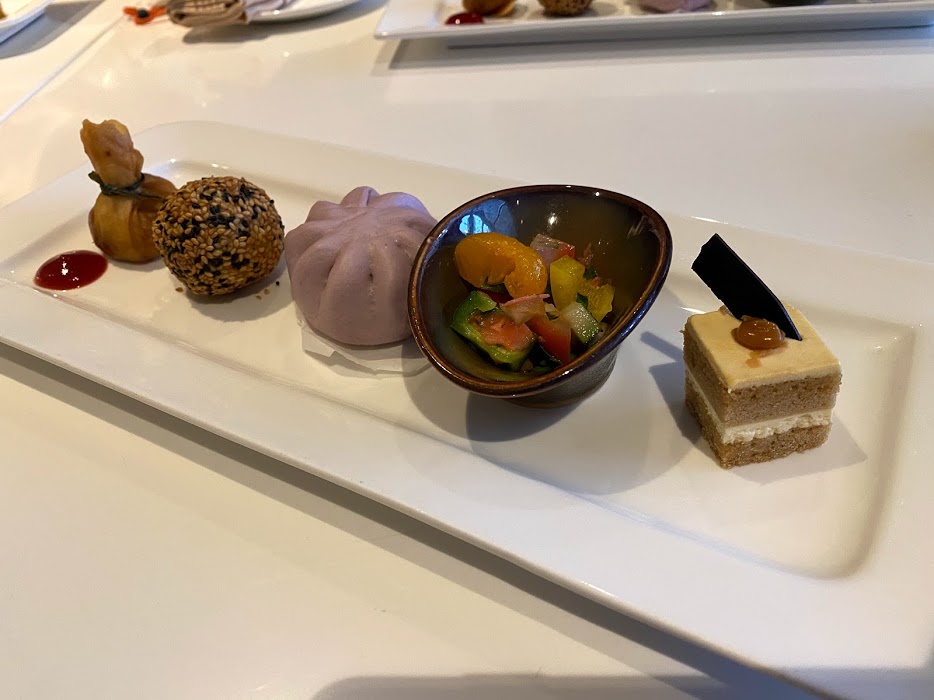 Servings are unlimited and you can request more for the food that you like. However, selections are limited and after 2 pieces I don't feel like eating anymore due to the greasiness.
On a plus side, the alcoholic selection is still pretty decent with a few basic cocktails.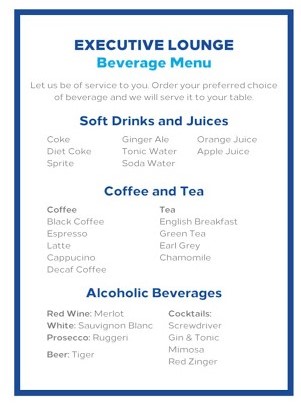 Whenever there's Prosecco, It will be on my table. I guess this is the only plus point during my stay.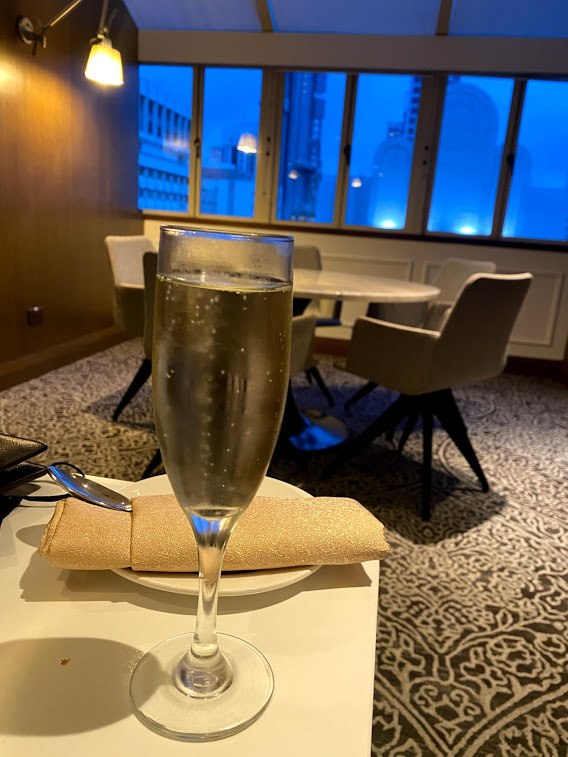 Breakfast
Breakfast I was able to choose between Opus and Executive Lounge. I choose the latter cause I'm afraid the crowd madness and the selection of food are the same except at Opus you will have additional Dim Sum as part of the breakfast choices. The selections for breakfast is so minimal that there isn't a need for menu.
Conclusion
In 2020, I have completed 5 staycations, and sadly to say, Hilton is the worse in terms of services and managing the member's expectations. The lounge manager managing the breakfast service is full of smiles and will come and speak to you asking you if you have any needs. I do not have such warm service during the evening cocktail service.
Will I be back again to Hilton Singapore? The answer is NO. I'll rather spend my money elsewhere.
---
Address: 581 Orchard Rd, Singapore 238883
Please support by following my Facebook page and instagram.