Hoteliers since 1897, Kempinski has travelled the world in search of the most fascinating destinations without ever forgetting the finest traditions of its European heritage.
Located in the civic and cultural district, the 155-room Capitol Kempinski follows years of restoration bringing out the best of the neoclassical-style Capitol Building (1930) and Venetian Renaissance-style Stamford House (1904).
Today, The Capitol Kempinski Hotel is proud of the integrated lifestyle complex, which boasts Arcade @ The Capitol Kempinski, Eden Residences Capitol, the legendary Capitol Theatre, and retail mall, Capitol Singapore. It is also close to Singapore's top attractions such as Marina Bay Sands, Chijmes, National Museum, and Merlion Park.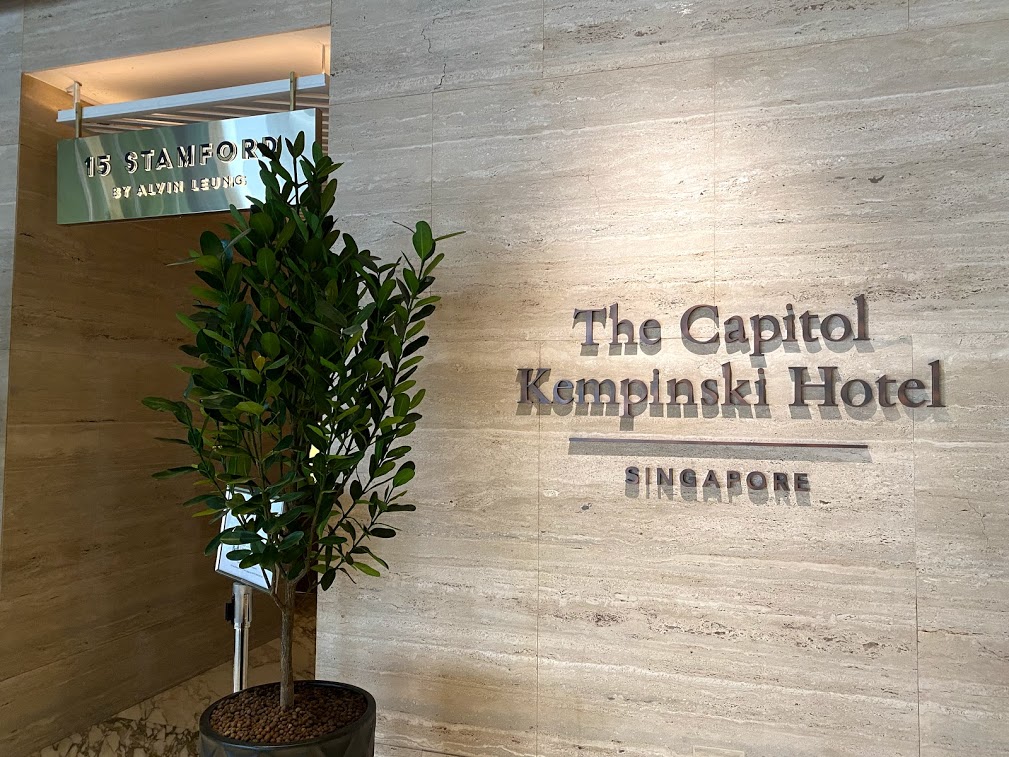 Checkin
The hotel is easily accessible by train, alight from City Hall MRT station, and within 5 mins walking distance. Drivers can park directly outside the lobby but limited spaces and possibilities of mishap to your car. Drivers can park within the Capitol building and parking is complimentary for guests.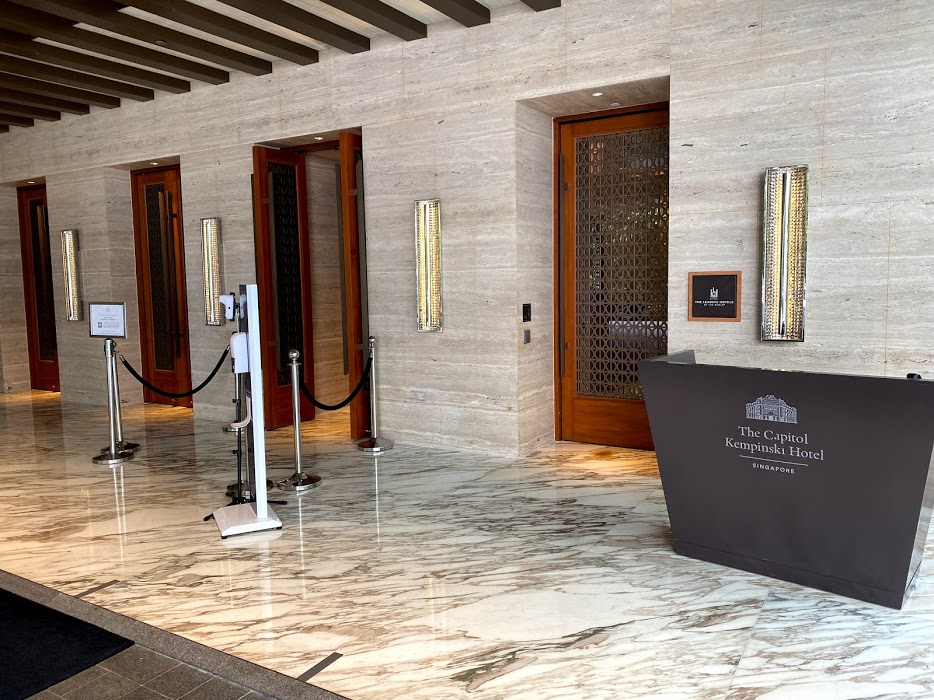 Upon reaching, a staff came forward to help with my luggage and safe entry procedure. Once that is complete, you will be direct to the front desk for the check-in process. The hotel entrance looks classy, luxurious and Oriental, providing a comfortable and homely vibe.
The lobby is small but cosy with a couple of sofas and a soft toy lion as part of safe distance measures.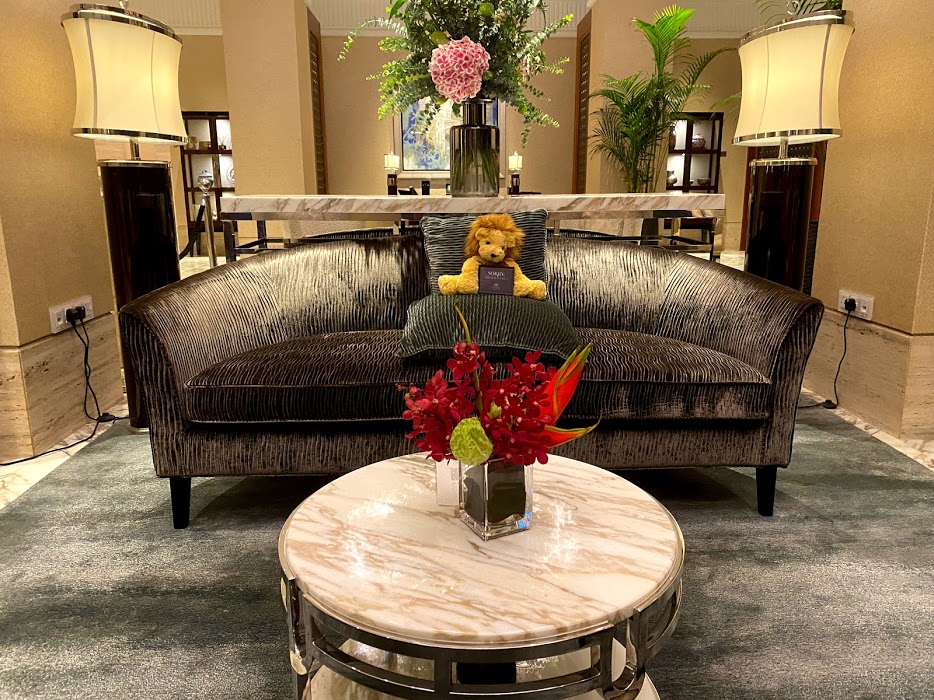 The check-in desk is located at both ends of the lobby thus there won't be a cluster of guests during check-in. plexiglass dividers were installed as part of safe measurements.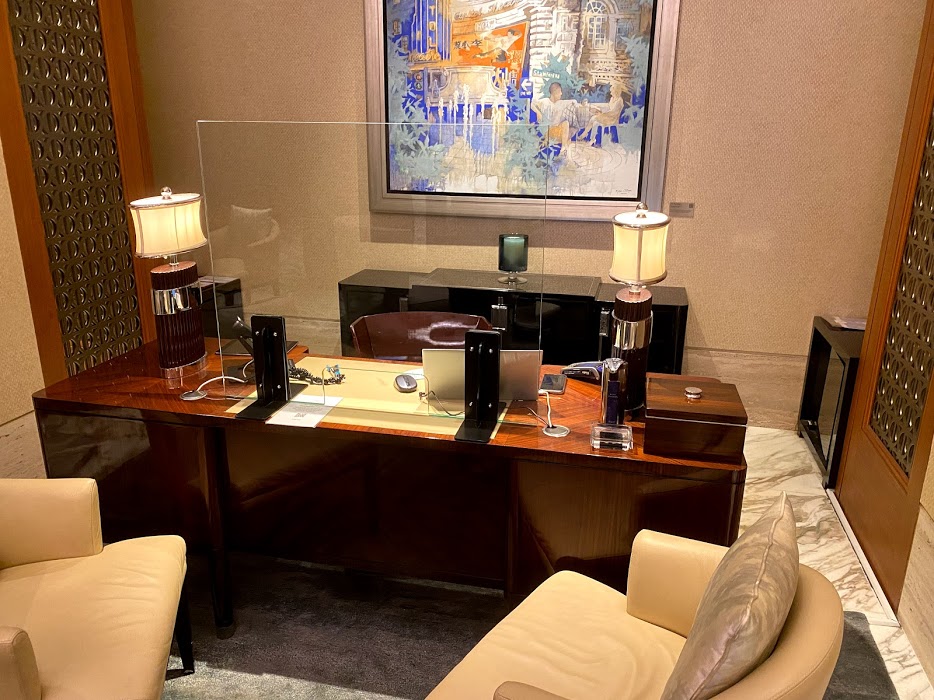 Due to P2HA when no dining in is allowed, the staff will pass you a menu and you will be required to choose your selections of food and breakfast delivery timing. There aren't any limits to the main you can order but please do not waste food.
As part of GHA benefits, all in-room dining will be entitled to a 15% discount. I was informed of the 6 pm check out timing for the following day.
Once all paperwork is complete, the front desk staff will escort you to your room and show you where the switches are etc.
Grand Deluxe Room
I originally booked for a Deluxe room and was informed of the pre-upgrade during check-in to the Grand Deluxe room which was a double upgrade as part of GHA Black perks. Room number 346 was assigned to me.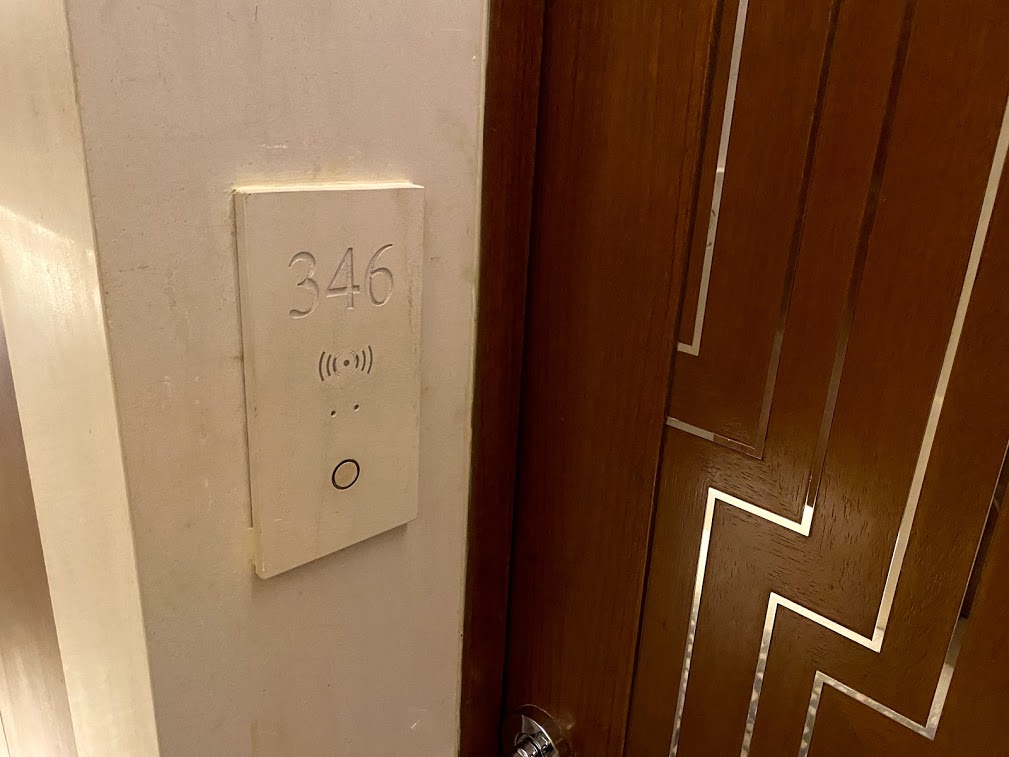 From the lobby, you will need to walk along a long aisle. On a plus side, this area is nearer to the lift for swimming pool access and direct to all the restaurants within Capitol mall.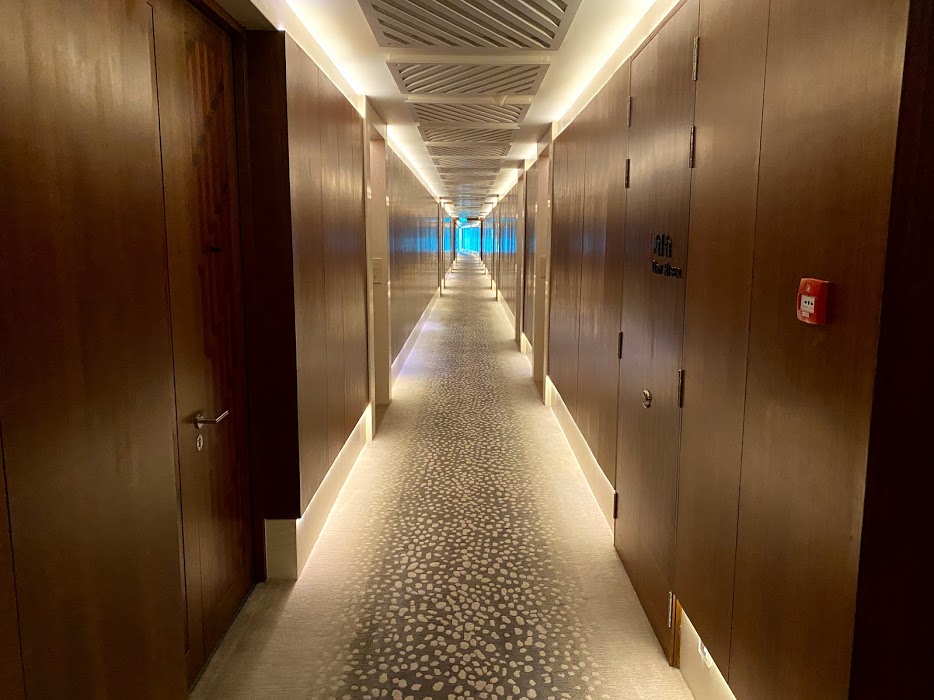 Entering the room, directly in front of you will be the sofa and coffee table. Although It looks like it's two-seater but actually it's able to comfortably accommodate 3 adults. The floors and walls are creamy in colour with fittings in dark brown colour. Cleanliness is top niche, the floor is smooth and clean.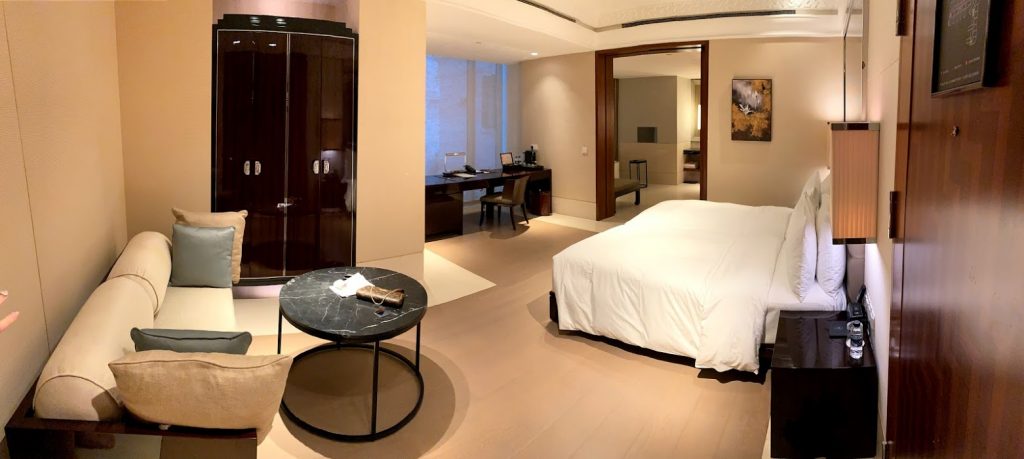 A two-door wardrobe where the luggage stand is stowed. The bathrobe and slippers are hung within the wardrobe. Most 5* hotels provide shoe-shining services, and Kempinski provides you with the necessary stuff to shine your shoe if required.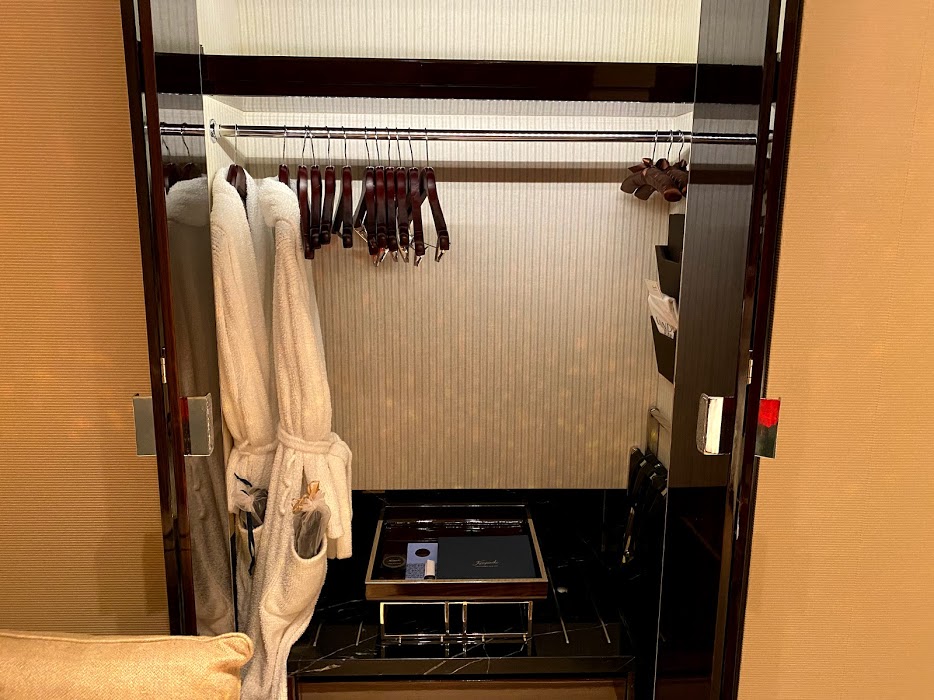 I booked a twin-bedded and 2 super single were placed side by side. There is a small gap in between but you will be able to push the bed to reduce the gap.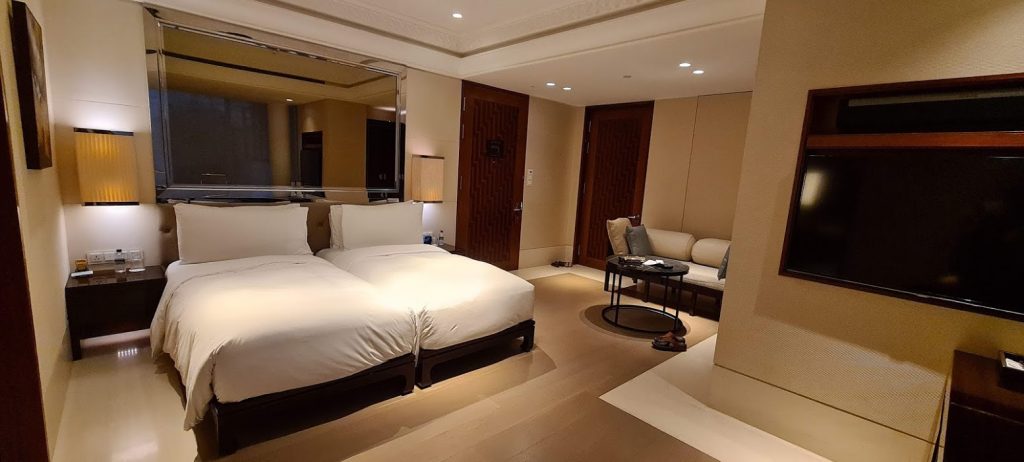 On one side of the bed, you have the switches to control the roller blind and lightings. An alarm clock comes with wireless charging together with a phone and a bottle of water. Water is provided almost everywhere.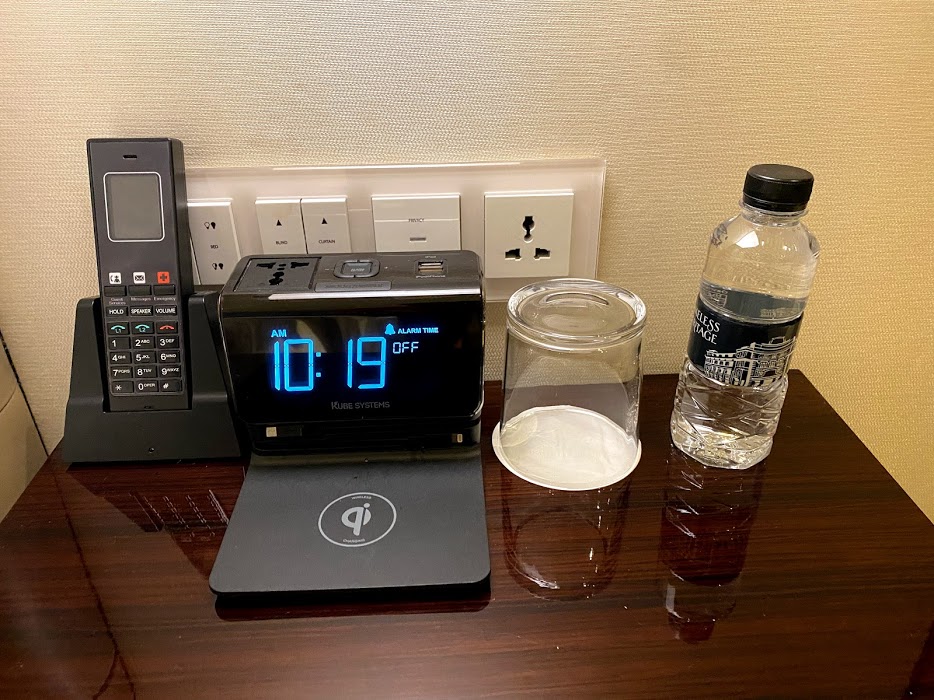 On the other side of the bed, the same switches and wall sockets are similar to another side but without the phone and alarm clock.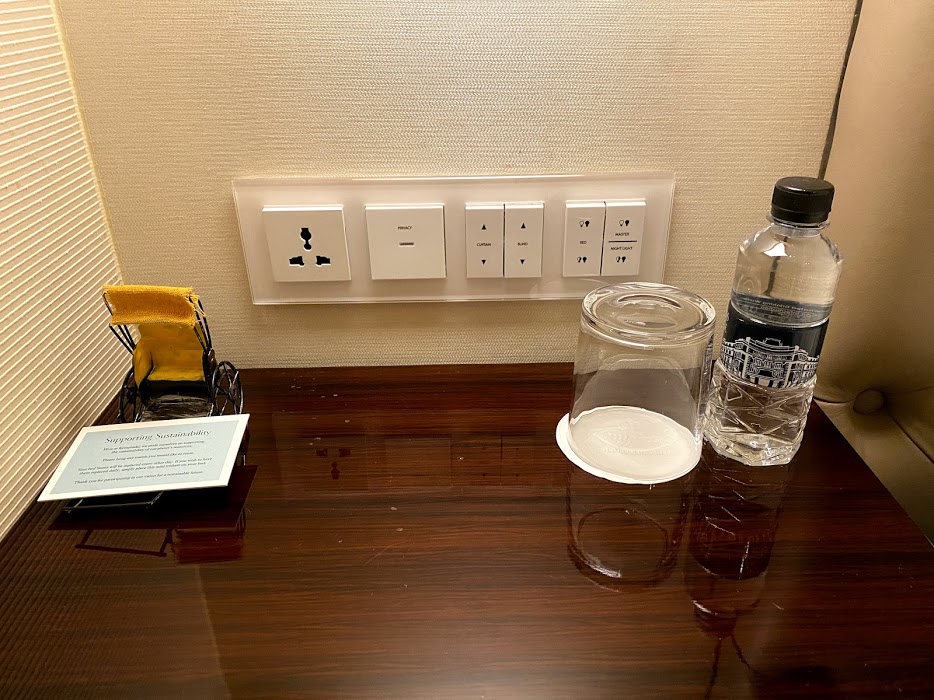 Directly in front of the bed will be the working desk, notice the room photos don't show the tv, it was hidden behind the wall. No issue with mirroring or airplay connecting to your devices. Kempinski is one of the few hotels that screen Euro 2020 and together with Sonos soundbar makes the match more exciting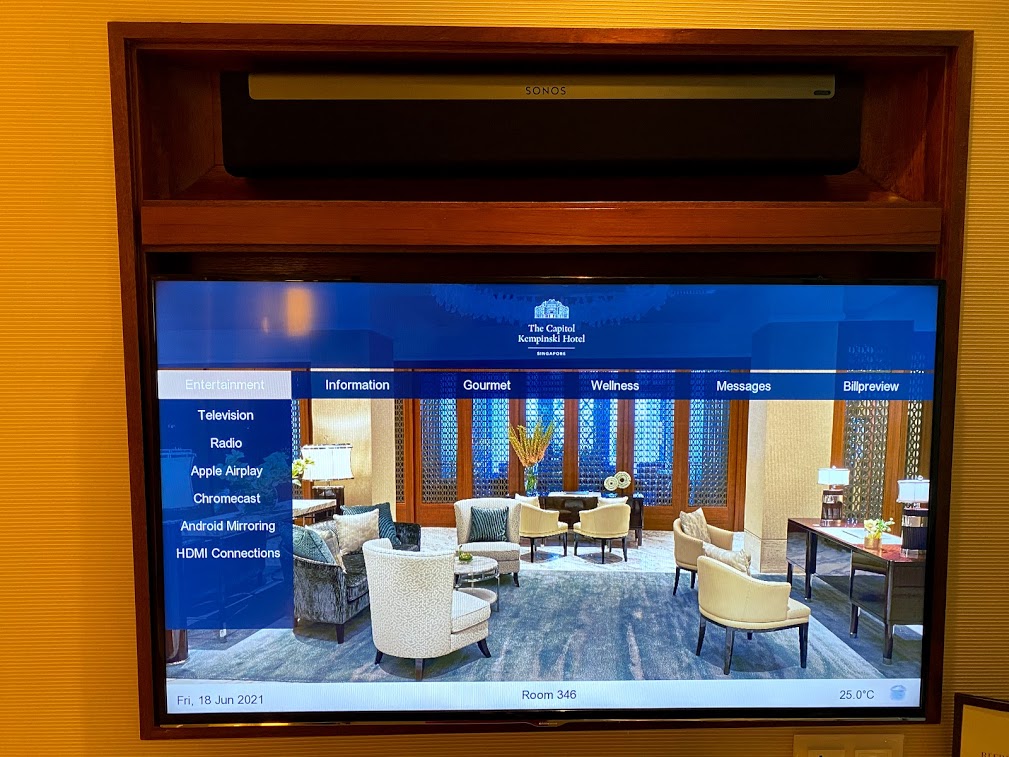 The desk is perfect for doing some work, however, the chair is similar to the St Regis chair, not suitable to sit for long as it will cause your back to ache.
I enjoyed those rooms that provide Herman Miller like ParkRoyal Pickering.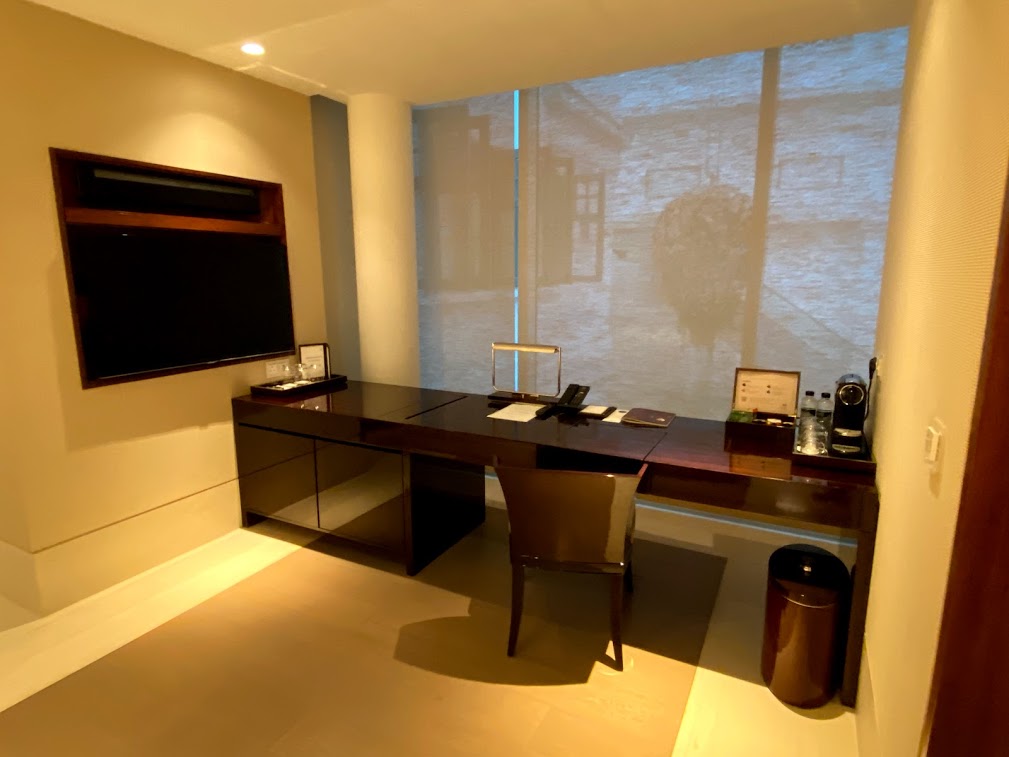 On the table, towards the right side, there is a concealed mirror and hairdryer. The mirror lights up when you open it.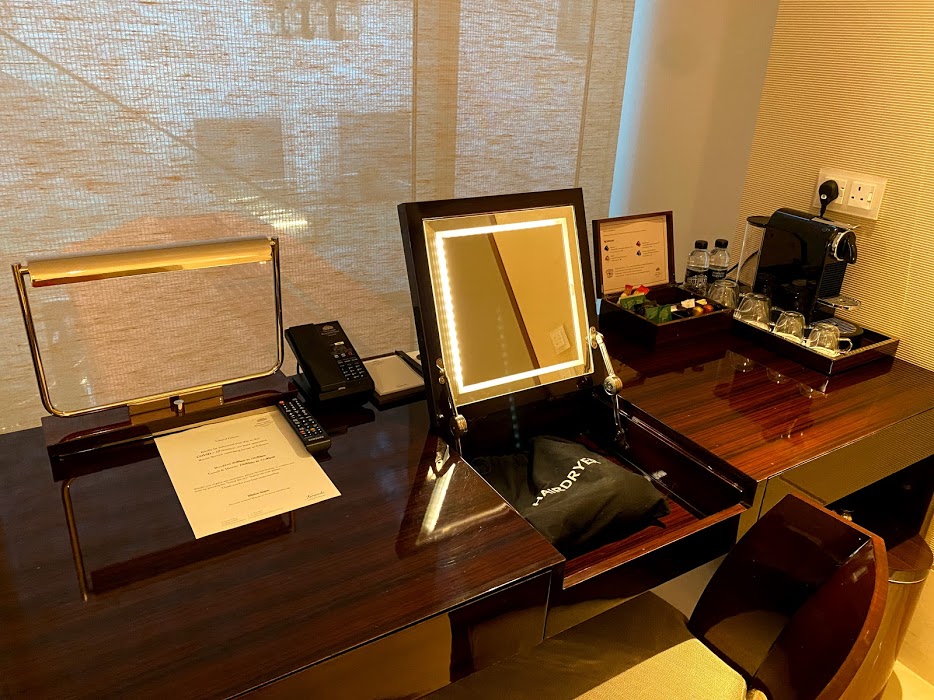 Twg tea and Nespresso machine are provided together with 2 bottles of water.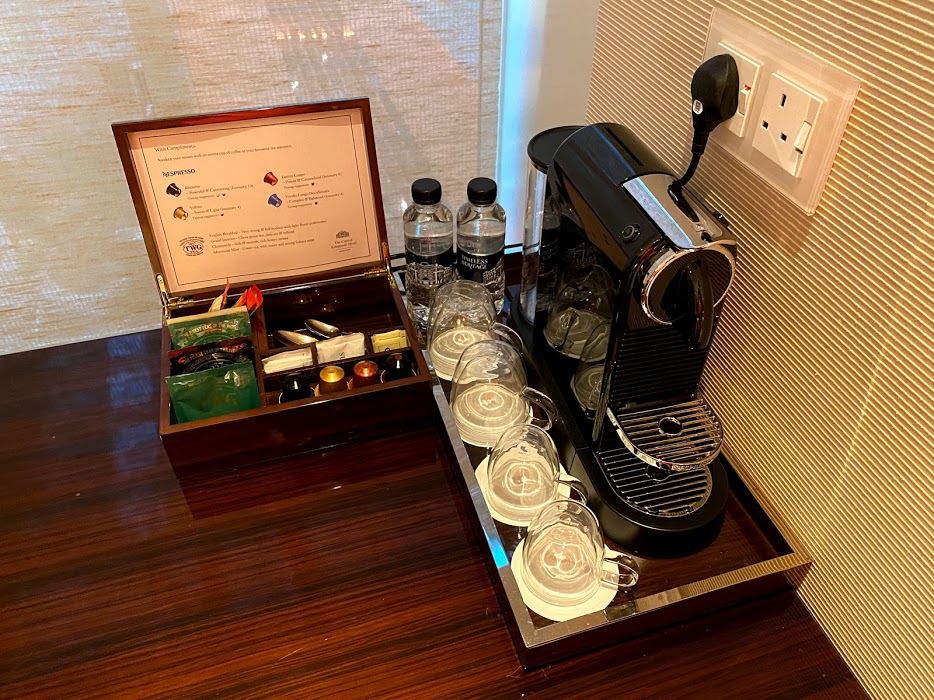 On the left side of the table, wine glasses and wine opener is placed on top on the table.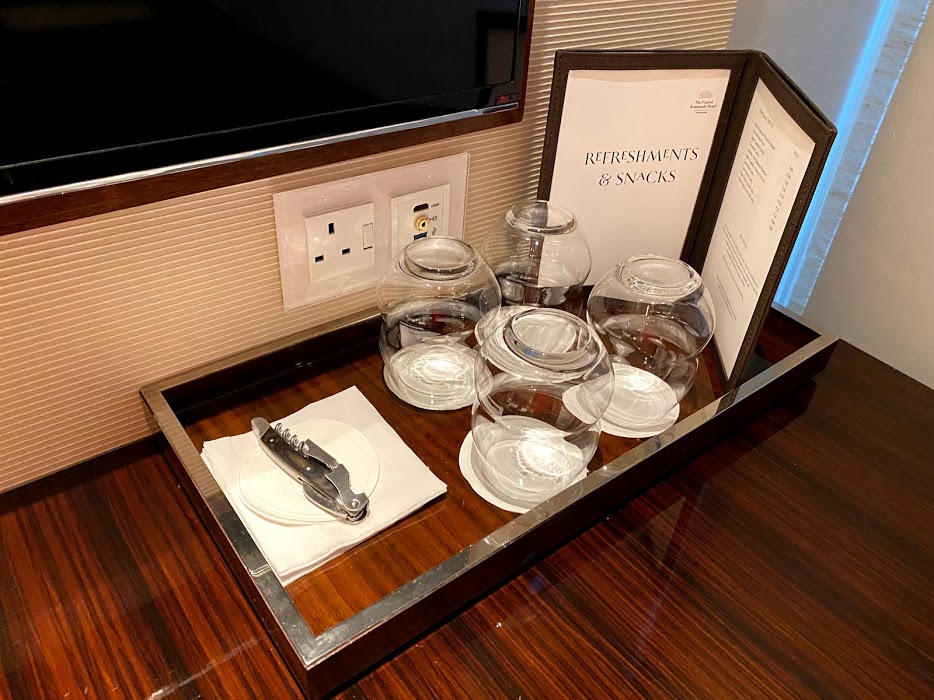 Underneath the wine glass will be the fridge, kettle and ice bucket. Non-alcohol drinks are complimentary although I can't find any alcoholic drinks in the fridge.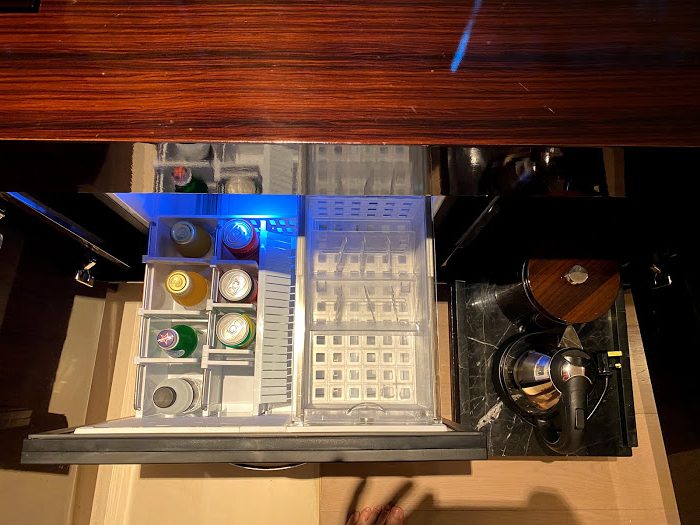 The bathroom comes with a bathtub and together with a wall tv. Taps are mounted in the middle and spacious enough for two to soak together.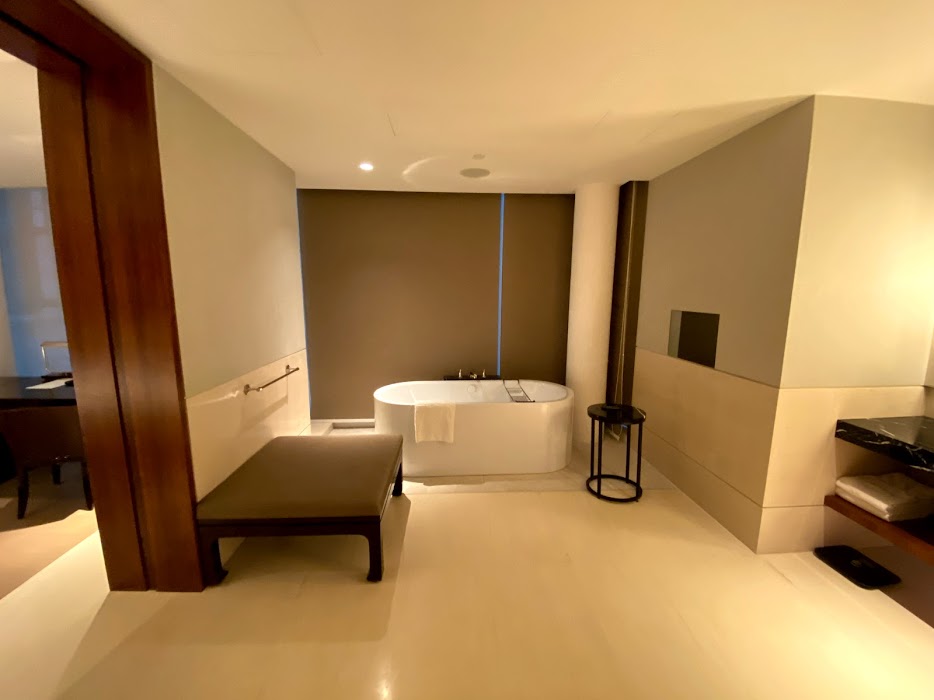 The bathtub tray was empty and it was supposed to have bath salt on it. Nevertheless, you are still able to request bath salt shall your tray is empty.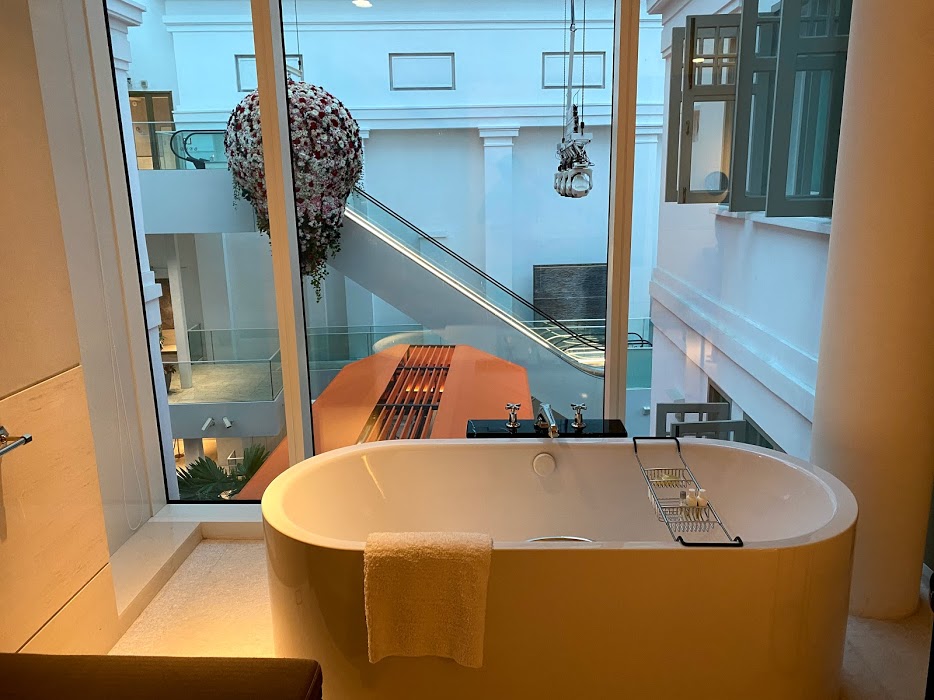 Rainshower and handheld showerhead is available in a separate room and the temperature is easy to control while water pressure is a bit on the low side.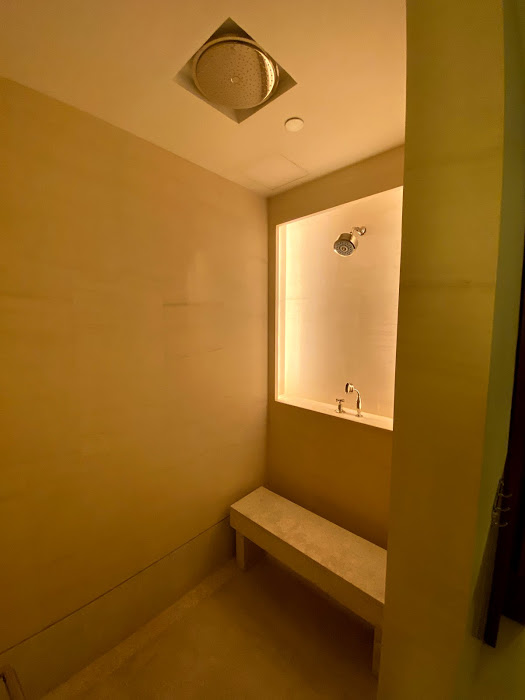 There's also a bench in the shower room for you to wash your feet and legs. Parents with young kids will find it useful to ask your kids to stand on the bench while you shower for them.
The toilet bowl is beside the shower room. It comes with a heated seat, on the first try, it's really hot to the butt.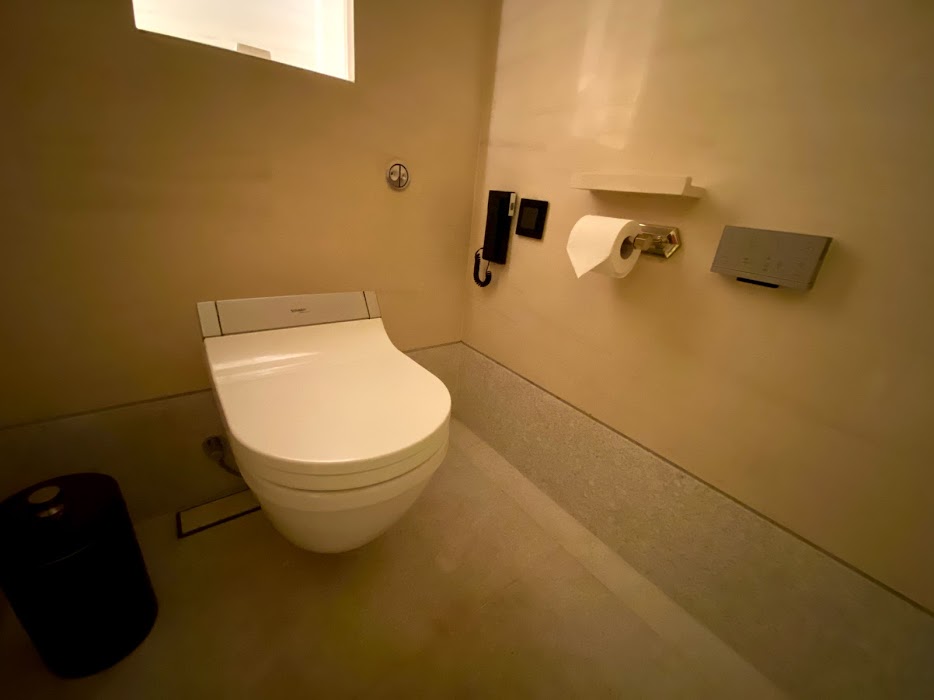 There a lot of functions that you can play around with for the bidet and the seat temperature.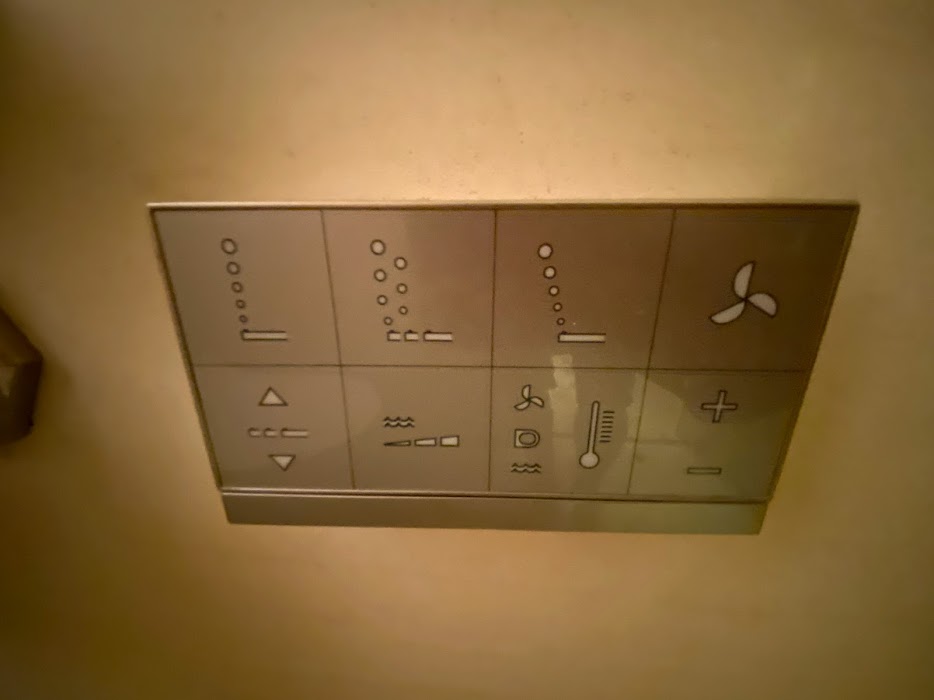 Solid surface top with wood finishing for the vanity. It comes with a single sink and bathroom amenities are placed over at the tabletop.
Below are the towels and floor mats. A weighing scale is available for those who like to monitor their weight, especially when a staycation is when you keep on dining.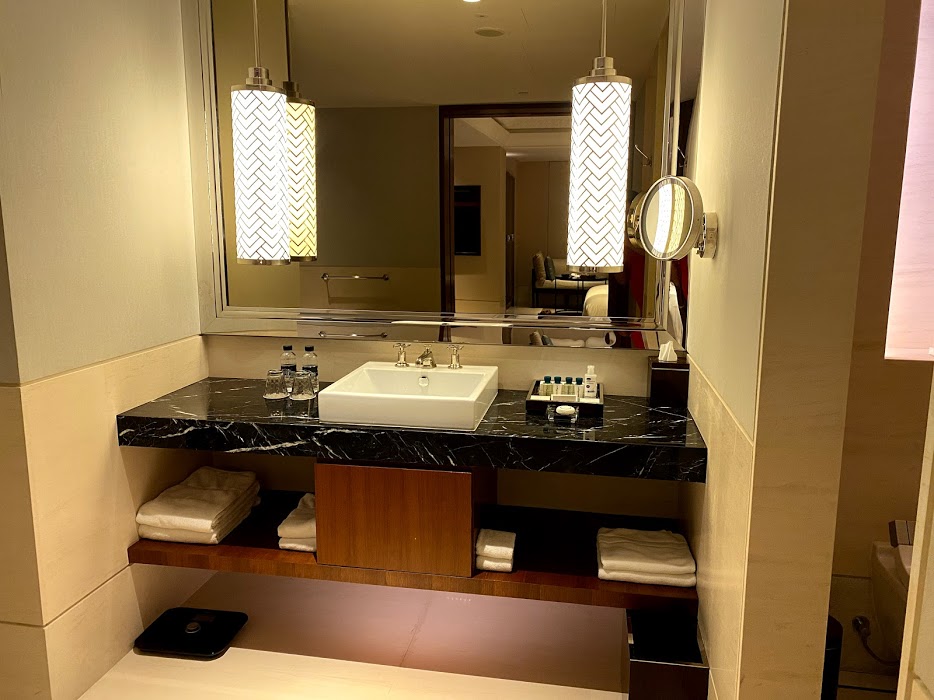 Bathroom amenities were from Ferragamo and placed together are care kit which comes with masks and hand sanitiser.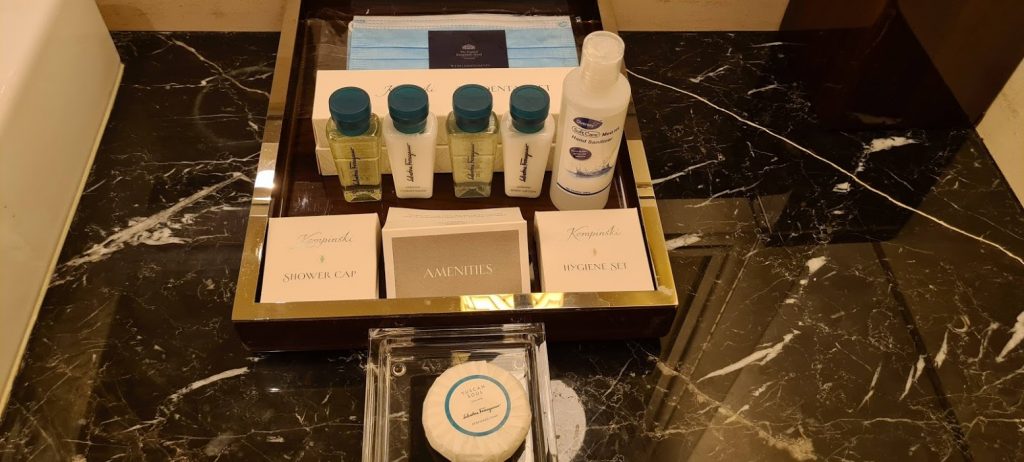 Local amenity for GHA members was a fruit basket together with a handwritten card from their Managing Director. It will vary from day to day so if anyone got something different please do share.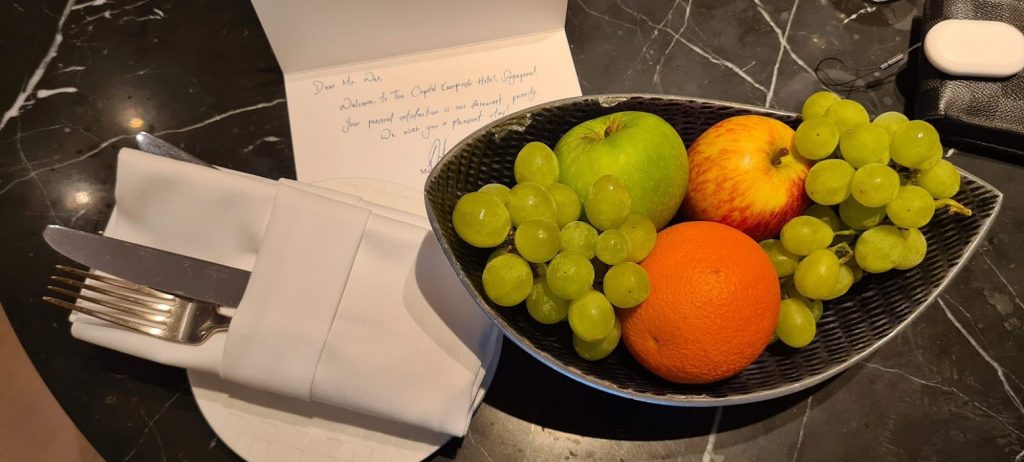 Swimming Pool
The pool is located at level 4 at Stamford wing. Those wanted to do laps will be disappointed with this pool. In fact, this pool is a saltwater relaxing pool with a jacuzzi.
Reservation is required and limited to 90 mins intervals. Pool operating hours will be from 8 am to 8 pm.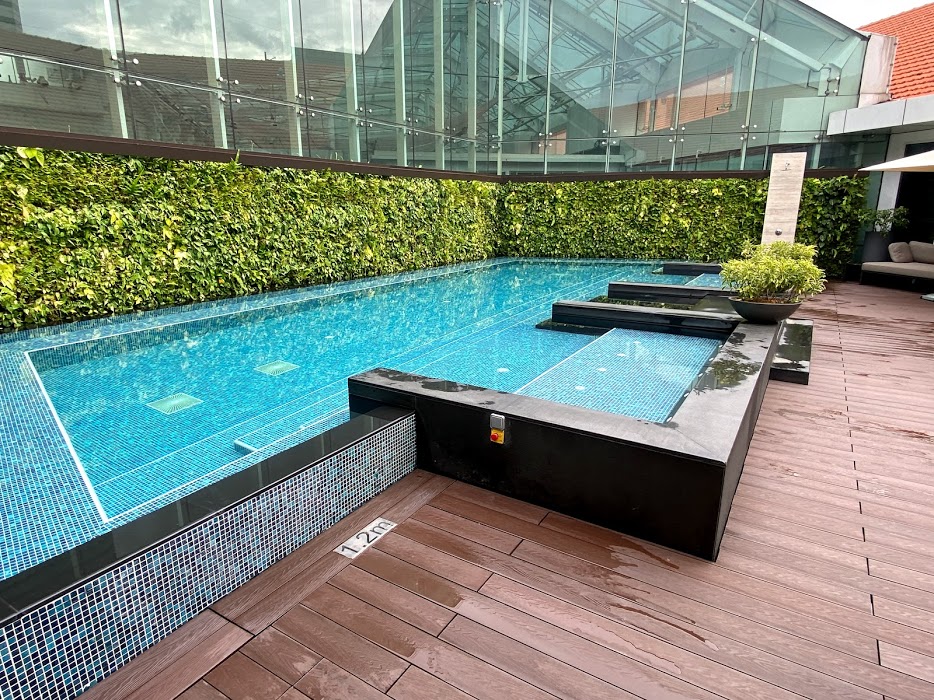 The pool is surrounded by greenery similar to St Regis pool. Plenty of sunbeds and sofas are available. During my visit, I notice that the staff will be very attentive when someone is using the sunbed or sofa. Once you leave, the staff will come in to sanitize. Plus point for fighting Covid.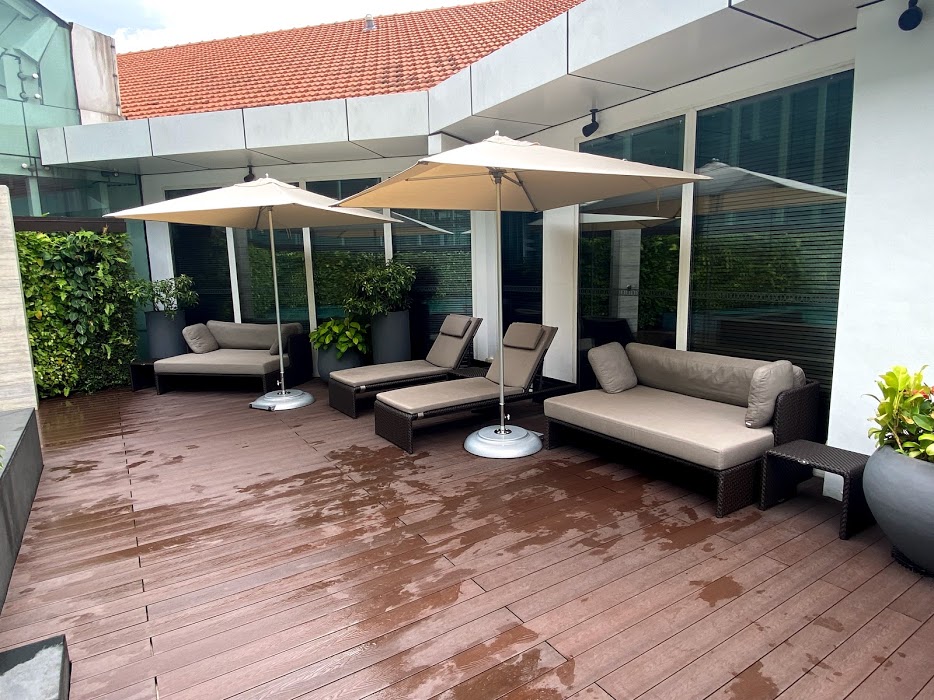 Breakfast
Due to P2HA, breakfast was not able to serve in 15 Stamford. Instead, it was served in the room. During check-in, they will pass you a paper menu and you will need to pass it back to the front desk before 9.30 pm.
The staff brought along an additional table to set up in our room due to the amount of food we ordered.
"Disclaimer, no food was wasted and we finished everything"
Breakfast was presented similarly when you had it in 15 Stamford.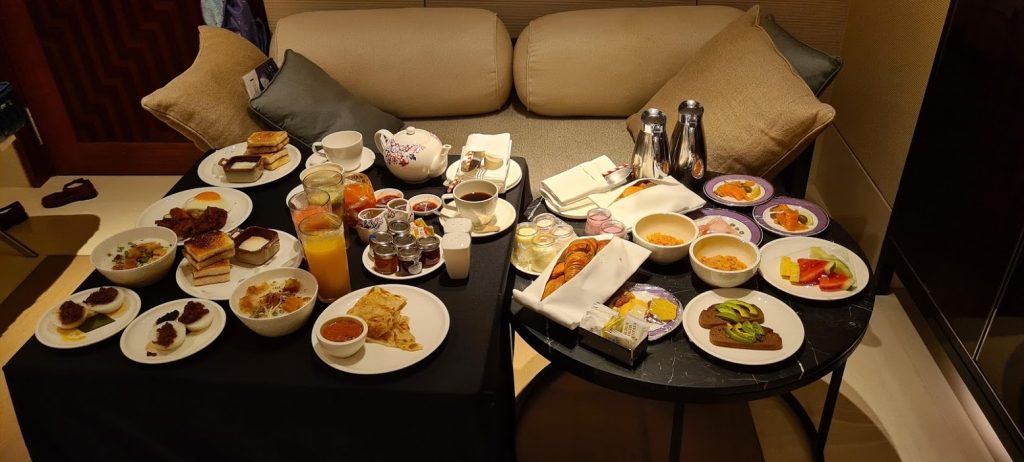 They are not kidding when they say if you crave something and not on the menu. They will try their best to provide.
I tried and ordered Steak and Eggs and Avocado toast.
Steak and eggs were well seasoned and cook till medium and well seared. Eggs were fried and fried potatoes were crispy.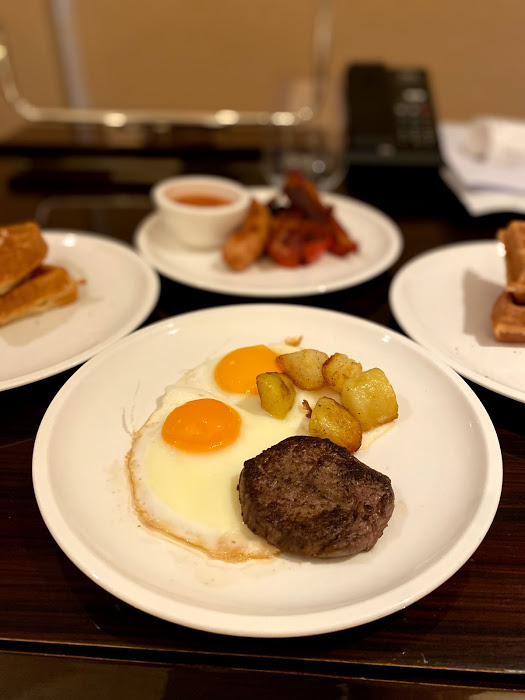 The avocado toast was average thou. The toast was overdone and avocado was spread on the top.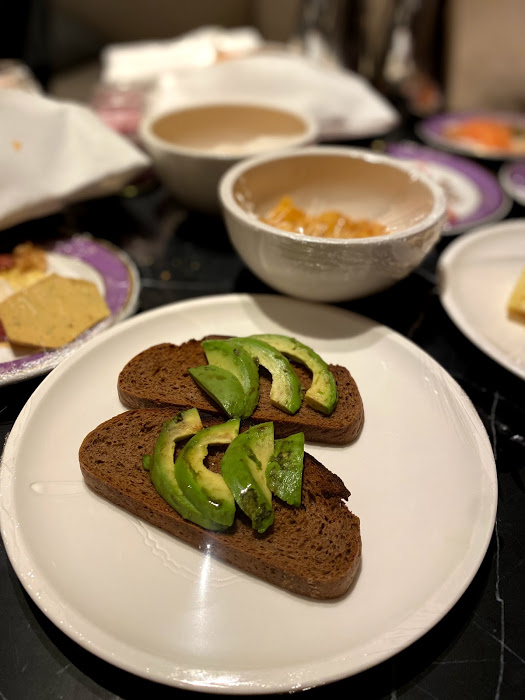 Nasi Lemak rice smells fragrant and the egg was done well. The otak is lightly spicy with a hint of lemon grass. Chicken wing is deep-fried till crispy and not oily. The soul of nasi lemak will be the chilli, slightly spicy and the sambal complements well with the rice.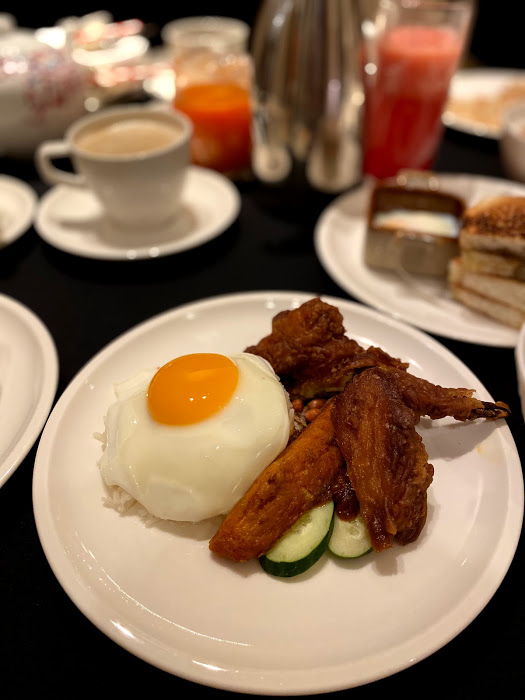 Conclusion
I enjoyed my stay very much but unfortunately, it was during P2HA. I believe if I can dine in 15 Stamford the experience will be much more enjoyable. I will be back if the price is within my budget for a staycation.
The staffs are friendly and the breakfast is delicious. Within Capital building, there are many other restaurants that are worth a try.