Receive up to S$100 stock voucher and 5 commission-free trades for new account-opening
---
What is Tiger Brokers
Tiger brokers is an online brokerage startup that caters to Chinese investors wanting to invest in overseas securities, particularly stocks listed on the U.S. and Hong Kong exchanges.
Tiger Brokers Singapore is a Capital Market Services Licensee(CMS100844) and regulated by the Monetary Authority of Singapore.
Click here to sign up with my referral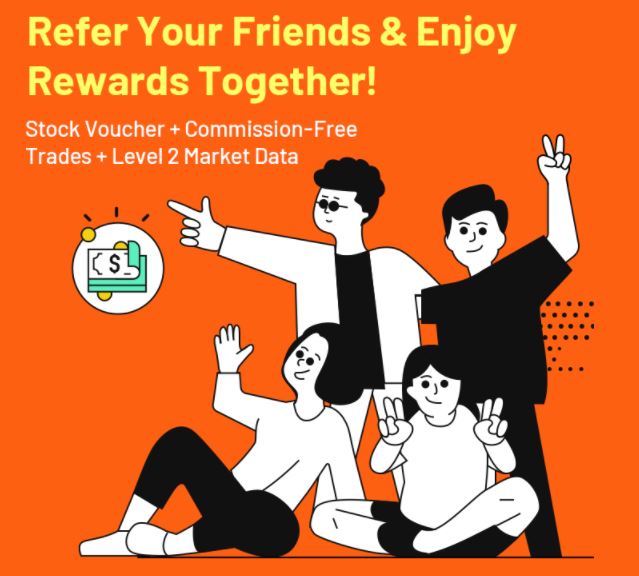 Account opening
Unlike other brokerage, Tiger broker allows you to create your account by using the government's MyInfo portal. Everything is pre filled for you and you just need to verify the details.
The whole process including your IDs and documents should take no more than 10 minutes. Base on my personal experience, the approval should be within an hour.
Another great feature of Tiger is funding. When I deposit thru bank transfer, it took less than an hour and the funds are in my account. Unlike TD Singapore which took 3 business days.
Rewards
Level 2 market data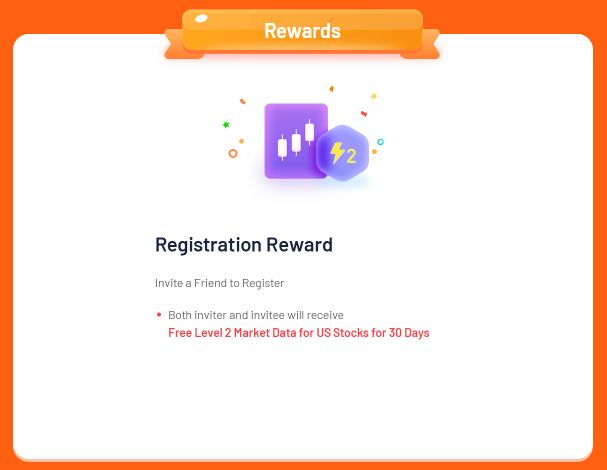 Both of us will Level 2 market data for US stocks for 30 days.
5 Commission free trade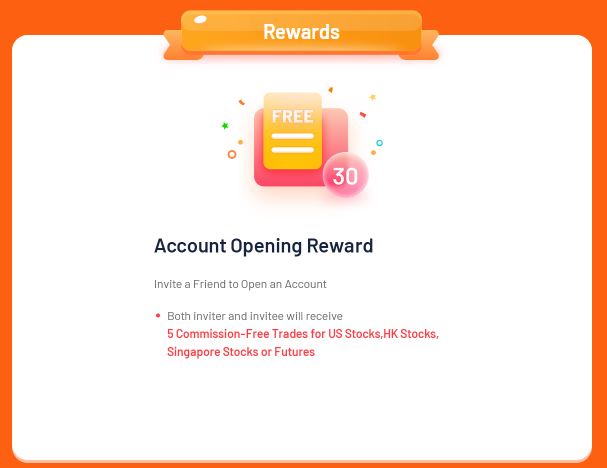 5 free commission trades will be given to both of us. It is valid for US, HK, SG stocks and Futures trading. How much is it worth? Please see below.
Let's take $10,000 as a guide that you purchase a stock, your total charges (inclusive of trading, clearing and GST) would be:
Singapore stock market commission

S$10000 * 0.08% = S$8 commission (Tiger Brokers)
S$10,000 * (0.0075% + 0.0325%) = S$4 fees (SGX)
Total (after GST) = S$12 * 1.07 = S$12.84
S$12.84 * 5 = S$64.20
Funding rewards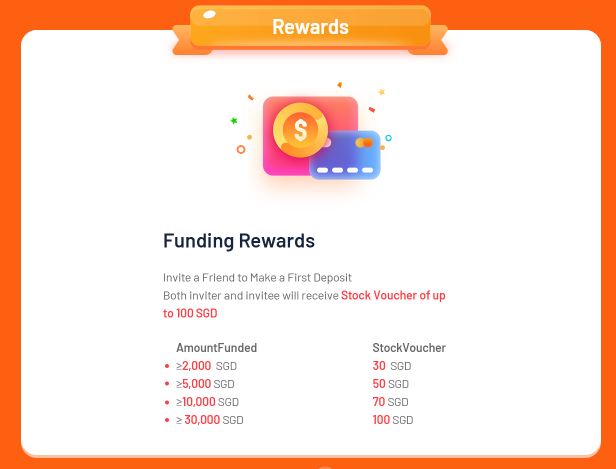 The funding rewards will be base on the tier. The more you fund, the higher the stock voucher you will receive. The stock voucher is used when you purchase the stock and it will offset the amount you suppose to pay.
| | |
| --- | --- |
| Amount Funded | Stock Voucher |
| >$2000 | SGD 30 |
| >$5000 | SGD 50 |
| >$10000 | SGD 70 |
| >$30000 | SGD 100 |
Step up rewards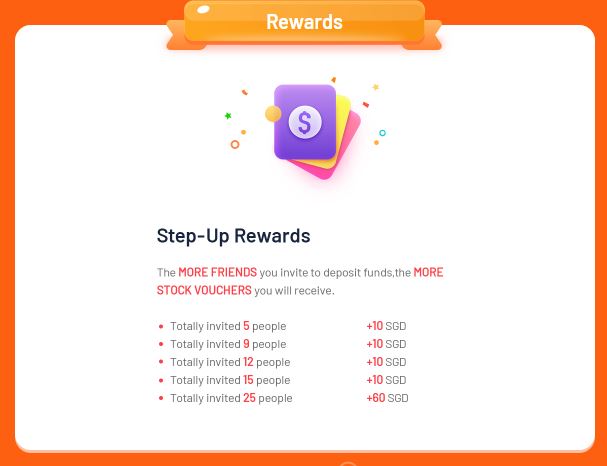 This is extra bonus on top of what you are receiving. The more people you invited and complete the funding, the more stock vouchers you will receive.
| | |
| --- | --- |
| Invited number of people | Stock voucher value |
| 5 people | SGD $10 |
| 9 people | SGD $10 |
| 12 people | SGD $10 |
| 15 people | SGD $10 |
| 25 people | SGD $60 |
Conclusion
I really enjoyed using Tiger Broker and their customer services are always there to answer your queries. Of course, there are other brokers in the market that are offering commission-free trades but then it's a trade-off, you are likely not to receive any customer service or not getting the real date from the platform.
Do not wait any longer and quickly sign up for your account with my link or scan my QR code below.